THE sun is out to greet York Open Studios on its opening weekend.
More than 150 artists and makers are showing and selling their work within their homes and workspaces, giving visitors an opportunity to view and buy "bespoke pieces to suit every budget", from 10am to 5pm today, tomorrow and next weekend too.
As ever, the range of artists' work encompasses painting and print, illustration, drawing and mixed media, ceramics, glass and sculpture, jewellery, textiles, photography and installation art. Check out the artists' directory listings at yorkopenstudios.co.uk to find out who is participating.
CharlesHutchPress is highlighting the 30 newcomers in a showcase all this week, in map order, continuing today with Philip Wilkinson; Rukshana Afia; Dylan Connor; Anna Pearson; Danladi Kole Bako and Izzy Williamson.
Philip Wilkinson, sculpture, 241 Burton Stone Lane, York
PHILIP has been a design-maker of bespoke works and hands-on museum exhibits for 25 years.

Employment stints at the legendary Eden Project, in Cornwall, and the magical Centre for Alternative Technology, at Machynlleth, Wales, stoked his interest in working with reclaimed materials.


In 2019, Philip built Quick Sticks Workshop, where he imparts "the joy of making stuff" through handmade automata, educational kits and practical sessions.
His works upcycle scrap into whimsical, hand-powered artworks with the common themes of humour, environment and engineering. "Each handcrafted model draws unique character from available materials," says Philip, who also teaches design at a York school.
Rukshana Afia, ceramics, 92 Dodsworth Avenue, York
RUKSHANA headlined her March 19 blog "Preparation verging on panic…", but the day has arrived for York Open Studios debut.
She makes coiled ceramics in stoneware and white earthenware, the earthenware decorated using alkaline/Islamic glazes, sometimes liquid metals. Her felts are cut and re-pieced with surface embroidery.
Rukshana is Eurasian, born in London in 1953. "I'm a progressive Sunni Muslim by birth, upbringing and mature conviction," she says. "My faith is very important as a source of creative energy as well as a historical treasure-house of artistic techniques, particularly in ceramics," she says.
Dylan Connor, sculpture, 114 East Parade, York
DYLAN'S' work explores an "urban abstract and realism narrative of body anonymous and known body sculptures", using organic material found in everyday environments present in today's society.
Dylan began studying art and sculpture while at school, graduating in contemporary design and craft from York St John University in 2018.
He then attended workshops led by a body sculpture and movie special effects creator and further extended his formal education to become a qualified teacher specialising in art and design.
He has spent time further developing his urban realism practice in his York workshop to reveal his latest collection.
Anna Pearson, painting, 29 Woodside Avenue, York
ANNA has produced a selection of different types of work, sometimes adding collage to them. She takes her inspiration from the Impressionists and Yorkshire's own David Hockney.
"My preferred medium is acrylics, finding the best way to apply it can be with the fingers or anything else lying around my kitchen," she says. "When sketching outdoors, I use pen and ink and have a whimsical attitude to straight lines – I like structures to have 'character'!"
Most of Anna's work is in acrylics with everyday objects and views as subjects, often using sponges to apply the paint.
Danladi Kole Bako, mixed media, The Studio, 40 Hempland Drive, York
DANLADI is the Nigerian-born founder of Bankoleart, his art being essentially characterised by the use of talking drums for functional and aesthetic visual art expressions, creatively employing themes, designs and media to highlight socio-cultural issues.
Born in 1969 in Kaduna state, Nigeria, Danladi is a "self-thought" artist, painter and mixed-media artist. "My passion for contemporary visual arts was nurtured during my years in solitude, when I devoted myself to research and developing my unique 'Bankoleart' style," he says.
His art form has flourished with increased experimentation at numerous artist-run spaces in Nigeria and his works are owned by private and corporate collectors worldwide.
Izzy Williamson, printmaking, Flat 1, 9 Sandringham Street, York
PRINTMAKER Izzy specialises in making original, limited-edition, intricate and figurative in style and deeply rooted in nature and stories from her childhood in Whitby.
"The narratives within my work observe feelings of playfulness and wonder, stemming from stories in folklore, dreams, myth and everyday joys," she says.

Since graduating from Leeds College of Art in 2015, Izzy has produced designs for interiors, packaging and branding.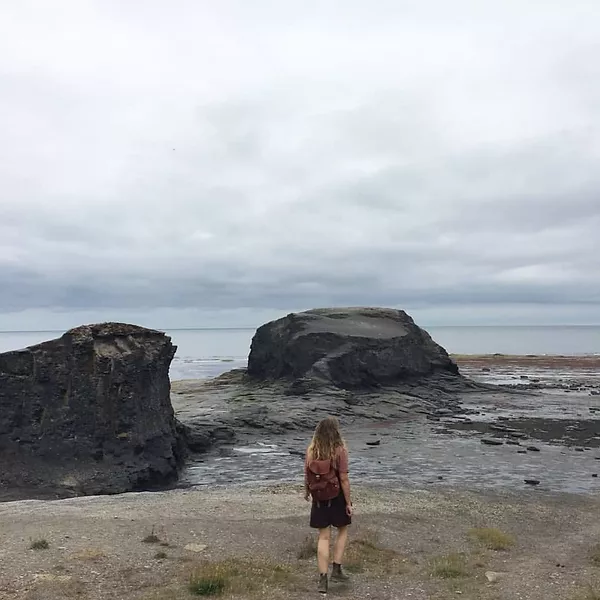 In focus tomorrow: Lucinda Grange, photography; Janine Lees, mixed media; Emma Frost, painting; Shirley Davis Dew, painting; Laura Thompson, illustration; The Island, photography.