Gary Barlow, The Dream Of Christmas (Polydor) *****
Wrapping: Where to begin! There's a choice of the standard 11-track CD, a deluxe book version with 16 songs, a box set, a clear vinyl album, plus bundles including Barlow Christmas sweaters, bobble hats, baubles, cassettes and other merchandise. All are beautifully packaged, but the variety of options is a little baffling.
Gifts inside: All versions include a cocktail of Barlow originals and updates of Christmas classics, given a very pleasing Big Band makeover, including Paul McCartney's Wonderful Christmas Time and Shakin' Stevens' Merry Christmas Everyone.
Sheridan Smith, The Puppini Sisters, Sheku and Aled Jones all make guest appearances. Seek out the deluxe version for I've Got My Love To Keep Me Warm, I Believe In Father Christmas, In The Bleak Midwinter, The Most Wonderful Time Of The Year and The Christmas Sweater (also to be found on Michael Buble's tenth anniversary set).
Style: Gary has embraced the Big Band sound with gusto. Think Strictly at Christmas, featuring the odd Rhumba, Cha Cha Cha and American Smooth, and you're in the right territory
'Tis the reason to be jolly: If you like Strictly Come Dancing, love Gary Barlow and find Christmas the most wonderful time of the year, there is much to enjoy.
Scrooge moan: Had I known the deluxe version had the best tracks, I would have tracked it down immediately.
White Christmas? Surprisingly not.
Blue Christmas? No.Gary Barlow has a happy soul. Even a sad ballad is given a caring Barlow twist. Yes, this is decidedly a happy album.
Stocking or shocking? Everyone knows someone who likes Gary Barlow. It's universal. What's more, this will still sound good 20 years from now.
Ian Sime
Norah Jones, I Dream Of Christmas (Blue Note Records) ****
Wrapping: Norah pictured outside the Christmas season, wearing a red dress and holding a star against a cityscape. Slim pickings inside, simply detailing the musicians and credits for each of the 13 songs.
Gifts inside: A mix of originals and evergreens, elegantly produced in Jones's distinctive jazz pop purr. A deluxe edition comes with three extra numbers including Last Month Of The Year and I'll Be Home For Christmas.
Style: Steady yourselves, it's languid, it's jazzy and it's classy. Very much in the fashion of the records Tony Bennett and Doris Day used to make, back in the day.
'Tis the reason to be jolly: Seemingly effortlessly evokes a mood of relaxed festive nostalgia. Jones's originals show a real affinity for the genre (Elton take note) and stand unassumed alongside perennials. Perfect if you are warming St Bernards by a dancing fire or have people round for a work meeting with wine and cheese.
Scrooge moan: It's impossible to dislike but equally difficult to love. Jones's music has to be served up in the background while something else, more interesting, takes place. Listen too closely and you'll soon be nodding. Scrooge like, the three extra tracks on the expensive edition have more life and interest than the rest, belatedly but brilliantly bringing in soul and gospel.
White Christmas? Centre stage, and Jones sings it beautifully. For once, a Bing cover that is worth hearing, upbeat and swinging. The brushed drums and upright bass provide the only frame needed to accompany her jaunty piano.
Blue Christmas? Blue Christmas is present and correct, relocated to the Crescent City. Like the rest, this track is even in mood and tone. As a whole, at 42 minutes, this album of old-fashioned length is balm to soothe away present-day worries.
Stocking or shocking? Strong album if you are seeking a very specific mood, or you entertain a lot. Since its release for Thanksgiving, millions of plays have accumulated on Spotify. Fans have been waiting a long time for a full-length Christmas album from Jones, and despite a prolific 2021, still yearn for more.
Paul Rhodes
Lucinda Williams, Have Yourself A Rockin' Little Christmas (Thirty Tigers) ***
Wrapping: Pastiche of vintage Christmas album sleeves, with holly decorations and Lucinda and her Gretsch guitar pictured before having herself a rockin' little Christmas. Jukebox-style song titles on the back. Credits in festive green and recording session snapshots inside.
Content: This is Volume 5 of Lu's Jukebox, Lucinda's In Studio Concert Series, her 2021 covers' collections taking in Tom Petty, Southern Soul, Dylan, Sixties' country classics and The Rolling Stones, each with a sleeve matching the iconography of the subject. This one brings the blues, swingin' jazz, southern soul and country template to Merle Haggard (If We Make It Through December), Irving Berlin (I've Got My Love To Keep Me Warm), Charles M Brown (Merry Christmas Baby), Mack Rice (Santa Claus Wants Some Lovin) and Willie Dixon (Little Red Rooster, with the lyrics given a Christmas reboot).
Style: If Shane and Kirsty's name-calling lovers had continued scoring points through the New York night. Or if Quentin Tarantino had put together a Christmas soundtrack. Or if you had the Boxing Day hangover and stonking headache every Groundhog Christmas Day, you might not make it through December. Rockin', croakin' Lucinda sounds like she's been to one helluva party.
'Tis the reason to be jolly: To have yourself a merry little Christmas, with the emphasis on the merry, just add Lucinda's heady winter warmer.
Scrooge moan: You may well have the Boxing Day hangover by the time you come out the other end of these dozen Merry Christmas (I Don't Want To Fight) encounters.
White Christmas? No, but Lucinda changes "The dogs begin to bark" to "The snow begins to fall" in Little Red Rooster. Oh, and "Snowball fighting, it's so exciting!", she exclaims at one point.
Blue Christmas? Oh yes, as blue as those veins in the Christmas Day Stilton.
Stocking or shocking? Just the gift for the Little Red Rooster who needs driving home for Christmas.
Charles Hutchinson
Michael Buble, Christmas, 10th Anniversary Edition (Reprise) *****
Wrapping: Again, be careful of what you are looking for. Deluxe and anniversary versions have been released every year since 2011, on so many different formats, that it makes the marketing for Paul McCartney's III and ABBA's Voyage look understated. There are deluxe box versions, a multitude of coloured vinyl sets and the special two-disc version unique to 2021.
Gifts inside: This year's set includes Let It Snow, Let It Snow, Let It Snow, collaborations with Rod Stewart, The Puppini Sisters and Naturally 7 and a brand new song, The Christmas Sweater, which also features on Gary Barlow's Christmas set.
Style: Along with Mariah Carey's collection, Merry Christmas, the original Buble Christmas album set the benchmark by which all modern festive albums are judged. Buble's impeccable presentation and delivery is nothing short of perfection.
'Tis the reason to be jolly: The Christmas Sweater is a new classic. Expect to hear this song every December for the rest of our lives.
Scrooge moan: In common with Mr Gary Barlow's set, it is confusing to devotees to identify which version is the best value for money.
White Christmas? Of course! Shania Twain sings on the original 2011 set; Michael sings a solo version on the second disc.
Blue Christmas? Mostly happy. Any album that includes Buble's renditions of Mariah's All I Want For Christmas Is You, Santa Claus Is Comin' To Town and Santa Baby is invested in making people happy.
Stocking or shocking? Chances are that everyone interested in Michael Buble already owns this album. 14 million homes have a copy, and the songs are always on the radio. Why not opt for Gary Barlow instead, aimed at exactly the same audience.
Ian Sime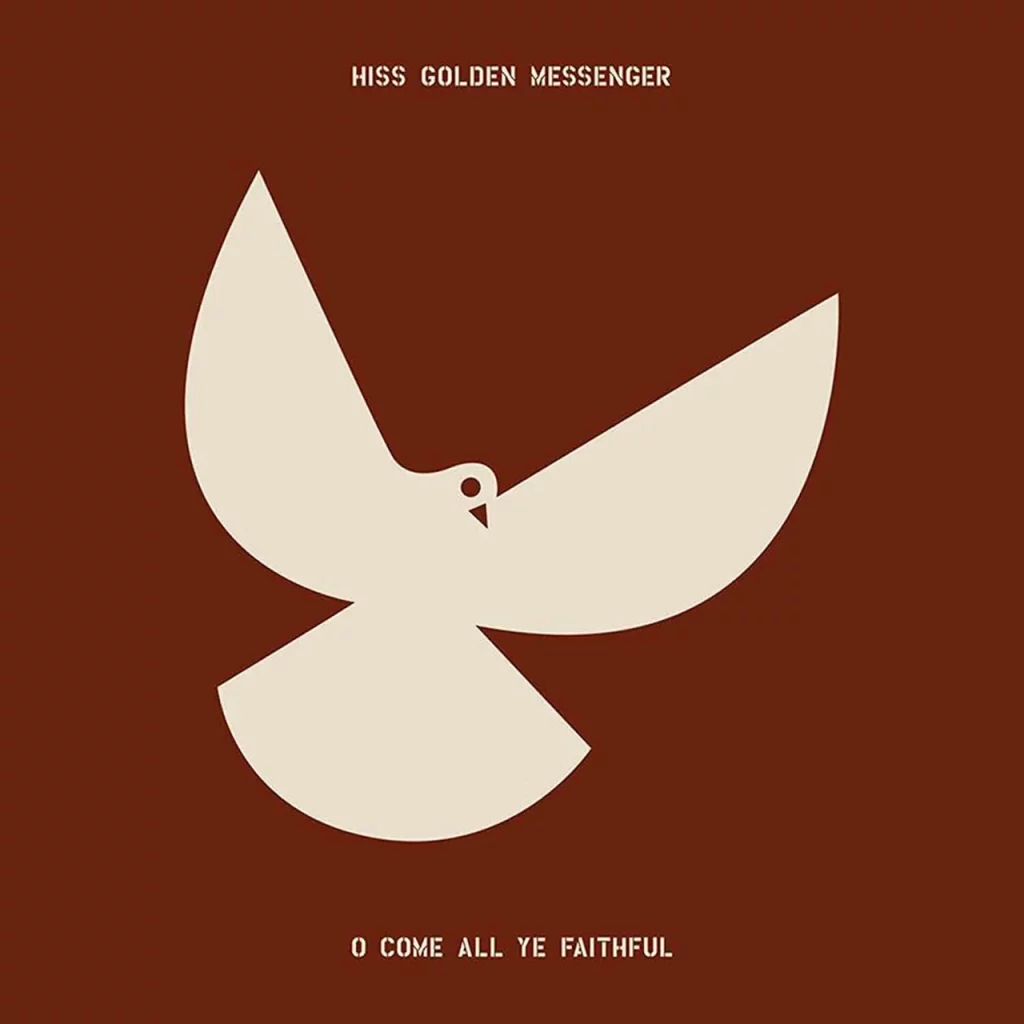 Hiss Golden Messenger, O Come All Ye Faithful (Merge Records) ****
Wrapping: Peace be with you twice over: a dove on the red front, a peace symbol on the green back. Inside, a sepia photo montage of MC Taylor and his myriad guest players, among them Buddy Miller (electric guitar), Matt Douglas (saxophone and flute) and Nathaniel Rateliff (singing).
Gifts inside: Three MC Taylor originals (Hung Fire, Grace and By The Lights Of St. Stephen); Taylor re-made lonesome hymns (O Come All Ye Faithful, Joy To The World, Silent Night) and canny covers (Spiritualized's Shine A Light, Woody Guthrie's Hanukkah Dance and Creedence Clearwater Revival's set-closing As Long As I Can See The Light).
Style: When MC Taylor went shopping for wrapping paper during Covid-ruined Christmas 2020, he found the jolly piped music incongruous in the bleak circumstances. Cue a country blues album of sombre reflection, downbeat but beautiful too, weathered, watchful, even weary, but spiritually uplifting.
'Tis the reason to be jolly: Up there with Tracey Thorn's Tinsel And Lights, Glasvegas's A Snowflake Fell (And It Felt Like A Kiss) and Aidan Moffat and R M Hubbert's Ghost Stories For Christmas as a truthful antidote to enforced jollification, full of wonder and hope for a guiding light but alive to the season's propensity for heightened sadness and loneliness too.
Scrooge moan: Not even the gorgeous By The Lights Of St. Stephen will ever greet MC Taylor in the shopping malls of home-town Durham, North Carolina.
White Christmas? No. Dream on.
Blue Christmas? Blue is the dominant mood here, all except Hanukkah Dance.
Stocking or shocking? Burst the Buble bubble. Take a punt instead on pleasing the Scrooge in your life with these golden messages in song.
Charles Hutchinson