SCOTSMAN Steve Mason has had enough.
Witness his new single, No More, now receiving buckets of airplay on BBC6 Music and providing the punchy title for his tour that stops off at The Crescent, York, tomorrow night (15/12/2022).
"The song's about a country that has had its Band Aid ripped off to expose a pustule of Government hatred," says the former Beta Band frontman. "But I feel immigration has brought a massive amount of joy to my life and my country, the whole country, Britain."
No More, a plea to end to division and find common ground, is the first taster for Brothers And Sisters, Steve's first album since 2019's About The Light, recorded and ready for release in March 2023.
Why give the album that title? "Well, number one it's the last song on the album. All the songs were written in lockdown, but with this one, I was thinking about Ghost Town by The Specials, with that line, 'All the clubs have been closed down', and I remember feeling it's all finished," says Steve.
"But now, if you were to accelerate forwards 40-odd years to 2022, you'd kill to go back to 1981, which is pretty crazy, in terms of personal freedoms, thinking about how many clubs there were, how you could still have a social life relatively cheaply, even if you were on the dole.
"Now, we just keep taking it and taking it, whatever's thrown at us, but what I don't get about this country is: at what point do we say 'Enough is enough. No more'."
A decade ago, on his album Monkey Minds In The Devil's Time, Steve had made the point that "we don't do anything until the problem knocks on the door". "Well, now it's knocking on everyone's door. It used to exclude the middle classes but not anymore," he says.
"The time is right for change, probably an alternative to democracy and capitalism, when I don't think we can say we live in a democracy anymore. Now that Boris Johnson can just lie in parliament, that's not democracy. It's fake, not real, when politicians are not accountable."
That said, Steve does not consider Brothers And Sisters to be a political album. "The thing is, I did my political concept album a few years ago. I set out my stall then, and I don't feel I have to hit people over the head with my songs when I need to remember that music is entertainment," he says.
"I want people to put my album on after they've had a s**t day, so I've toned it [the politics] right back down. What the listener brings to the lyrics, how they fit into their life, that matters, because it has to be at least 50 per cent what the listener thinks.
"I want it to be a beautiful record, a positive record. It's not negative at all. It's about us finding some peace in the eye of the storm and hopefully finding some clarity when everything's been deliberately clouded. You have to take a few steps to turn everything off."
The last time Steve ventured into North Yorkshire, on December 14 last year, he could be found seated alone by a lamp, amid twinkling fairy lights and a Christmas tree, performing at Stockton on the Forest Village Hall.
"This time last year I was playing a lot of village halls, just me on my own," he recalls, ahead of rolling out Beta Band and solo material with keyboardist Darren Morris by his side at The Crescent tomorrow. "I've really gone all out this time!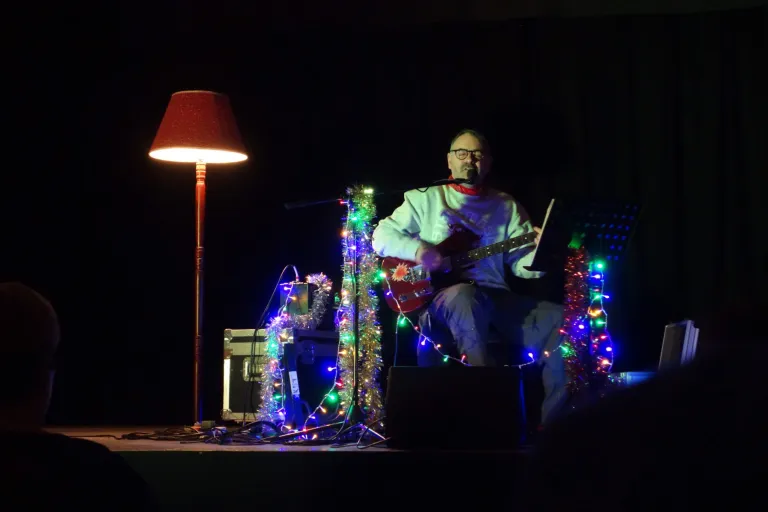 "Darren's been playing with me for about seven years and he was on the About The Light album. This is a very stripped-out version of what I usually take out on the road, but for this album that I've just finished, I'm gonna change from a traditional band format.
"You can now reliably run backing tracks with drums and bass on there and then have people like gospel singers with you. But it's been really difficult because of two years of no gigs and then a lead-in time of a year for vinyl pressings, so you potentially run into the problem of not touring for another year, but touring this way, with Darren, allows me financially to get to the point of releasing the album."
Steve wrote Brothers And Sisters at the height of the lockdowns, looking for "some form of spirituality, as we were all were in the pandemic, but not tied to any one religion because people prefer freedom in their spirituality".
"We must find things that we have in common when we have a government that wants to divide us – and that's why I want them to fail miserably," he says. "It's important to love your fellow man and fellow woman and be aware that the information we're fed is not always correct."
Steve talks of striving to be an artist again, having become "somewhat reactionary" on About The Light. "I was just lucky that I realised that at some point I was going to make a record that I didn't like, my fans didn't like, or the radio didn't like," he says.
"There are elements of that record that I liked, but certainly I was dipping my toe into waters that I wouldn't want to get any wetter.
"I'd just got married, had a three-month-old daughter, and I was feeling those adult thoughts for the first time, thinking about having to support my family through my art.
"What I've now managed to do is decompartmentalise my home life from my working life. I owe it to myself, to anyone who ever bought a record, to everyone who calls themselves an artist, when it's such a precious position to be in, to be strong and take risks."
To do so, he must swim against the authoiritarian tide. "For some reason, artists in this country are made to feel like second-class citizens who have to struggle to achieve anything, but opposition to the arts is the sign of a weak government up to no good," he says.
Now 47, Steve's career since 1996 has taken in folktronica experimentalists The Beta Band, King Biscuit Time, Black Affair with Jimmy Edgar and four solo albums since 2010 with the fifth upcoming. Along the way, debts led him to work on a building site and he has had struggles with depression too, but marriage and fatherhood, song-writing and performing are his life force now.
"What I would say is that, at the moment, I'm thinking a lot more about the live experience for people and how that will translate into something that's exciting, energetic and uplifting," he says.
"I've always been a very slow learner, so it takes me a long time to work things out, but on this record, I've tried to stretch myself vocally, much more than I've ever done before, singing a song in a way that's more difficult, that requires more effort, when in the past my vocals were quiet.
"Doing something you've not done before, going somewhere new in a song, I just feel that the new tracks, when performed live, are head and shoulders above anything I've done before – and the audience reaction has been beautiful to see."
Steve Mason, No More Tour, at The Crescent, York, tomorrow (15/12/2022), supported by Cobain Jones, at 7.30pm . Box office: thecrescentyork.com.