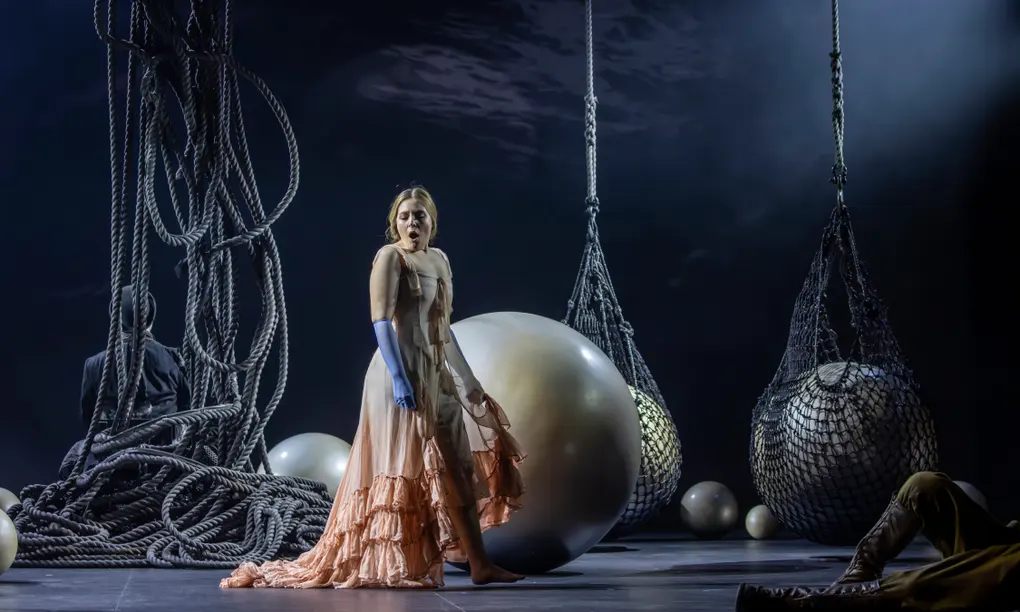 IT has been well over 30 years since Opera North looked at Bizet's youthful stab at orientalism, The Pearl Fishers. But in that time orientalism has acquired some of the negative taints of colonialism, with claims made in the programme that Bizet's attempts at exoticism sound dissonant to modern ears because he was not properly acquainted with Asian music.
It is doubtful if that thought would have even flitted into the minds of the Leeds – or any other –audience. Nowhere is credence given to the idea that the composer was not trying to be authentic, merely conjuring atmosphere as understood in his own day and still largely so now.
The mere fact that there is felt to be a need for such an apologia is an instant red flag that there might be a 'concept' lurking. Productions should be able to speak for themselves.
At this time of year, the company has customarily offered a concert staging in Leeds Town Hall. With that venue undergoing major refurbishment, a full staging at home base was the obvious fall-back, but all the touring dates are due to be only concert performances.
This is relevant since what we get is a very static production from Matthew Eberhardt, with little hint of context in Joanna Parker's costumes.
Principals apart, it is hard to tell whether the chorus are supposed to be fisher-folk or Brahmins, since they are clad in black suits and dresses, very much like westerners. They are even to be found seated in chairs along the edges of the stage. So it is very close to a concert performance.
The only costume to make any impact is Nourabad's rather jumbled salt-caked coat-tails, more like the Old Man of the Sea than a high priest.
Parker's set is dominated by a central totem of tangled fishing ropes stretching up the ceiling. This appears to serve for an altar and is twice partially climbed by Leïla. Otherwise, the stage is littered with enlarged pearls of various sizes up to two metres in diameter. These mainly vanish in Act 3, allowing the chorus easier passage, though some larger ones are to be seen hanging in nets overhead.
Peter Mumford's lighting is predominantly gloomy, most of the light coming from slender on-stage spots, which enliven the action but regularly leave faces in partial shadow. There is a continual video backdrop of waves in moonlight co-designed by him and Parker; it does not change even when the chorus sing of blue skies and calm sea. But we could have been anywhere, Mexico (as originally intended), Ceylon – or even Lowestoft.
There are compensations in the music. Quirijn de Lang, a welcome and regular visitor here, has rarely sounded as resonant as he does as Zurga, right from the start. He commands the stage. But he reins back for the big duet with Nico Darmanin's Nadir, who had not quite reached full throttle at that point on this opening night. Nadir's later anger is convincing enough and he partners Leïla sensitively.
Sophia Theodorides, making her house debut, is a confident Leïla, her ornamentation clear and her emotions tangible. Joseph Creswell makes a stentorian Nourabad, a powerful presence.
The chorus is certainly forceful, if not quite up to its usual blend. Matthew Kofi Waldren keeps them and his orchestra attentive, and alive to the nuances of Bizet's orchestration. But this production would have been better billed as a concert staging. What we get is a half-way house that will have pleased few.
Review by Martin Dreyer
Further Leeds performances on May 25, 27, 31 & June 2, then touring (concert performances) to Manchester, Gateshead, Hull City Hall (June 24, 7pm)and Nottingham until July 1. www.operanorth.co.uk. Leeds box office: leedsheritagetheatres.com; Hull, hulltheatres.co.uk
REVIEW: Martin Dreyer's verdict on Opera North in Requiem: Journeys Of The Soul, Leeds Grand Theatre, May 30
IT'S an ill wind…some good may have come out of Covid. Music of mourning requires an outcome for the living: a vision of the hereafter, perhaps, but certainly closure or catharsis. Mozart's Requiem and Neo Muyanga's After Tears: After A Requiem combines the talents of Opera North and fellow Leeds company Phoenix Dance Theatre with South Africa's Jazzart Dance Theatre and Cape Town Opera.
The vital link between the two is Dane Hurst, who has links with both dance companies; he choreographs and directs this double bill, inspired by personal loss during the pandemic.
Dance was always a feature of early Christian worship and remains so in less inhibited cultures than our own, so the idea of a balletic requiem is perhaps not as radical as it may at first seem.
The 'After Tears' is a relatively new tradition espoused by younger generations in South African townships and equates somewhat to a wake, whereby the blues of mourning are submerged in loud, dance music.
Simplistically, South African composer Muyanga's new response piece picks up where Mozart leaves off. Hurst's choreography keeps closely to the music. In the Mozart, it is immediately engrossing, not least because the soloists and chorus are constantly in physical touch with the dancers, offering sympathy and consolation.
The Dies Irae sees a frenetic outpouring from both chorus and dancers, the latter writhing in agonies of what appears to be self-recrimination. In contrast, for example, the Benedictus offers cool balm to the troubled.
The sheer energy of the dancing is a marvel, quite stunning. It is invigorated by a chorus that is equally on fire; the two forces clearly inspire one another.
Underpinning them is Garry Walker's orchestra, ablaze with rhythmic fervour that can only be an inspiration to the dancers. The solo quartet – Ellie Laugharne, Ann Taylor, Mongezi Mosoaka and Simon Shibambu – blend superbly but are individually distinctive when need be. Shibambu's stentorian bass is ideal in the Tuba Mirum.
Joanna Parker's thin black wooden shards remain dangling overhead for After Tears, where Muyanga's score initially lays emphasis on percussive effects. His melodic instincts are relatively subdued and tend towards minimalism as the piece progresses.
Between two main sections is a moment of ritual reflection involving a priestly figure who chants in African dialect and invokes the spirit of Fire. This is a welcome oasis of calm amid otherwise frantic activity, in which the 16 dancers now shriek with joy.
There is a sense in which the ritual aspect of this dancing evokes the atmosphere of Stravinsky's Rite Of Spring, even though the music is less challenging. But the evening also offers an electrifying opportunity to re-evaluate our attitudes to death and mourning and discover the silver lining they canoffer. As an example of cross-cultural fertilisation, it tops the charts.
Review by Martin Dreyer
The final performance of Requiem: Journeys Of The Soul at Leeds Grand Theatre are on Saturday (3/6/2023) at 7pm and Sunday (4/6/2023) at 2.30pm. The production was co-commissioned by Leeds 2023 Year of Culture. Box office: 0113 243 0808 or leedsheritagetheatres.com