THE inaugural Scarborough Film Festival is running from today until Sunday.
"We've put together a really fantastic programme of films that includes feature films, both arthouse and mainstream, short films, documentaries, animation, locally made films and artist moving images," says co-director Elizabeth Boag. "We hope there really is something for everyone."
A familiar face to theatre audiences from her Stephen Joseph Theatre performances, not least in Alan Ayckbourn comedies, actress Elizabeth is joined in the directorial team by Martha Cattell, archivist at the Yorkshire & North East Film Archives.
Elizabeth had decided to move back to Yorkshire from London in April 2021, after the pandemic, with a new son to bring up as a Yorkshireman and teach to walk in the sea.
"Having worked at the SJT, where they still show films in the McCarthy auditorium in what was the old Odeon cinema building, I messaged the theatre about setting up a film festival, as I'd love one to be held in Scarborough," she says.
"I'd done a scheme in London called Firehouse Films ["a film lab with a difference"], where the principle was to give fledgling filmmakers the chance to work with actors and crew at a South East London location, without having to pay to pay for any of those.
"Each director would have a month to make a short film, with Firehouse Films providing a database and crew, and the actors would work for free for two days. That was in January to March 2013, producing 12 films, before I ended up coming to the SJT to do Alan Ayckbourn's Arrivals And Departures that summer."
Elizabeth admits she "didn't know short films were a thing until I started acting", but the seed was duly planted in her head to establish a film festival to "show amazing films to the people of Scarborough".
Roll the years forward, and serendipitously Martha Cattell also had approached SJT artistic director Paul Robinson over the possibility of launching a film festival at the East Coast resort.
"Paul asked if I knew her and said she had some very cool friends that I did know," recalls Elizabeth. "We met and got on really well, and while we come from different angles and our areas of interest are quite different, our tastes are similar. I'm more in touch with the narrative side and Martha more with artist films and documentary films."
Martha was working as the curator for Crescent Arts in Scarborough [October 2020 to December 2022] when they first met and is now the project delivery manager for the Yorkshire & North East Film Archives, exploring how the moving image can be used in environment and climate narratives.
Profiled on LinkedIn as a freelance film programmer and creative producer, she gained a PhD from the University of York in 2019 in the ethics of representing the whaling industry in art and film. Earlier, she had chaired the York Student Cinema on campus.
An artist too (who works with seaweed), Martha's diverse career has taken in programming and coordinating the Gateway Film Festival in Peterborough, involvements with the Aesthetica Short Film Festival, Sheffield Doc/Fest and Hebden Bridge Film Festival, and co-directing and programming Sea/Film, an organisation committed to bringing alternative film and cinema to Yorkshire, the Humber and the North East.
Pooling their skills, Elizabeth and Martha decided "we wanted to make a film festival that would be very accessible, make it something for everyone, something they may not have seen before but would speak to them".
More than 30 years since York entered the modern age of cinema-going at Clifton Moor, Scarborough still awaits its first multiplex cinema, although multi-million-pound plans were approved in March for one to transform the Brunswick shopping centre. In the meantime, Scarborough cinephiles must head up the stairs at the SJT or to the Hollywood Plaza Cinema, in North Marine Road, home to a weekly programme of Hollywood blockbusters and newly released films.
"One of the reasons we were keen to partner with the SJT for the festival was to help it survive as an arthouse cinema, presenting a cross-section of films. The SJT was the obvious hub for the festival as I'd worked there so much that I had a natural 'in'," says Elizabeth.
"I grew up in Pickering, where there was the Pickering Castle cinema, but sadly it closed when I was in my teens [in 2006, later to be converted into apartments in 2013], but we loved going there. It was such a wonderful place to go."
A love of cinema was born. "For young people growing up in Scarborough, I want to give them the chance to go to the cinema and enjoy it as I did and still do," says Elizabeth.
To that end, she and Martha are encouraging children and school groups to partake in the festival, whether in a Q&A, workshop or family screening.
Film aficionados will note that the debut Scarborough Film Festival is running in the same week as the 13th Aesthetica Short Film Festival in York. "In our planning, we said, 'we have to avoid our weekend clashing with Aesthetica'…but our festival has a very different remit, with a very different offering, and next year we will make sure we don't clash.
"If people are going to Aesthetica and spot something that attracts them in our programme, then maybe they'll come over here too."
CharlesHutchPress's guide to the Scarborough Film Festival programme
November 9, 5pm: Opening event, McCarthy Cinema, Stephen Joseph Theatre, Bait and The Tide, plus Q&A with local cast and crew of The Tide. A night of films exploring the tensions faced by coastal communities. Suitable for age 15 plus.
​SHOT on a vintage 16mm camera using monochrome Kodak stock, Mark Jenkin's timely, funny, poignant Bait goes to the heart of a Cornish community facing up to unwelcome change.
Made in Scarborough, with support from Film Hub North through the BFI Network Short Film Fund, Dan Hartley's 2021 film The Tide charts the fate of a rusting trawler and its beleaguered crew as they struggle to eke out a living from the waters of the North Sea beyond Scarborough.
Producer and cast member Liam Thomas will lead the Q&A session. "This will be the first screening of The Tide in Scarborough, and we're delighted that cast members and the crew will be attending," says festival co-director Elizabeth Boag.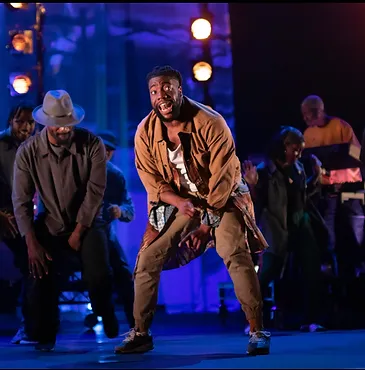 ​November 9, 8pm, McCarthy Cinema, Stephen Joseph Theatre: Complicité presents Can I Live?,plus Q&A with Fehinti Balogun. Conceived, written and performed by Fehinti Balogun. Suitable for age 12 plus. Captioned screening.
​WHY don't we talk about it? Fehinti Balogun asks this urgent question and offers an invitation in Can I Live?, a new digital performance about the climate catastrophe, exploring his personal journey into the biggest challenge of our times.
Addressing themes of racism and classism as he weaves his story with spoken word, rap, theatre, animation and the scientific facts, Fehinti charts a course through the fundamental issues underpinning the emergency.
In doing so, he identifies the intimate relationship between the environmental crisis and the global struggle for social justice, and shares how, as a young Black British man, he has found his place in the climate movement.
In the face of a sense of helplessness about the climate catastrophe, Can I Live? is an outstretched hand, inviting audiences to recognise they are not alone – and that through understanding the issues and connecting with the many powerful activists around the globe driving change, we can find a sense of hope for the future.
November 10, 1.45pm, McCarthy Cinema, Stephen Joseph Theatre: Caribbean Stories short films programme, curated by Barbadian journalist turned filmmaker, programmer and exhibitor Denyce Blackman. Age: 18 plus
PRESENTED in partnership with the Caribbean International Film Festival, this collection of varied, stirring stories from around the Caribbean showcases the richness of culture, language and experiences in portraits from Bahamas, Cuba, Trinidad and Tobago, Jamaica and Martinique.
November 10, 5.30pm, Woodend Gallery & Studios, The Crescent; Queer Shorts: Liquid Thoughts short films programme. Age:18 plus
A SERIES of short films exploring themes of water and queerness, showing in collaboration with SJT, Crescent Arts and Scarborough Museums and Galleries alongside their exhibitions Always Been Here; and Garth Gratrix: Cheeky Felicia.
"There's a vibrant queer artistic community in Scarborough and we're very keen to invite them into the festival," says Elizabeth.
November 10, 8pm, McCarthy Cinema, Stephen Joseph Theatre: Ken Loach's The Old Oak, plus Q&A with lead actor Dave Turner. Age: 18 plus
KEN Loach partners again with screenwriter Paul Laverty for what is reportedly his final film at 87. In a once thriving North East mining community, The Old Oak is the last pub standing, kept afloat by a few remaining locals who feel abandoned by the system.
When a group of Syrian refugees arrives to be placed in the former pit village's cheap, vacant homes, tensions begin to rise, but an unlikely union forms between the pub's affable landlord, TJ Ballantyne (Dave Turner), and an aspiring young Syrian photographer, Yara (Ebla Mari).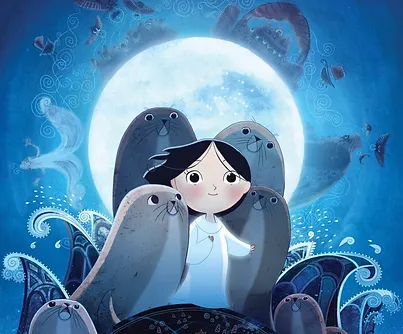 November 11, 10am, McCarthy Cinema, Stephen Joseph Theatre: Family Film, Song Of The Sea (PG)
TOMM Moore's enchanting Irish animation tells the story of Ben and his little sister Saoirse – the last Seal-child – who embark on a fantastic journey across a fading world of ancient legend and magic in an attempt to return to their home by the sea.
November 11, 11.45am to 1.30pm, Boden Room, Stephen Joseph Theatre: Animation Workshop. Age recommendation: perfect for families with children aged four plus.
​CHILDREN'S author and self-taught animator Terenia Edwards leads an Introduction To Animation workshop. Learn the basic mechanics of animating and make your very own thaumatrope – a spinning toy that creates a visual illusion – inspired by Song Of The Sea. Free event but book to ensure a place.
November 11, 3pm, McCarthy Cinema, Stephen Joseph Theatre: Competition Selection, film programme of Yorkshire Shorts with presentation and Q&A
"INITIALLY, we did an international call-out asking for submissions on the themes of Coast, Community and Environment, but we had so many submissions – more than 2,000 – that we decided to narrow it down to Yorkshire films, either filmed in Yorkshire or made with Yorkshire talent in them," says Elizabeth.
"Our selection panel watched them and then Martha and I made the final decision on the choice of films to be shown."
The panel of industry judges for Saturday's competition will be: BAFTA-winning TV drama director Jordan Hogg; broadsheet film critic, Tim Robey; Zoe Naylor, from the BFI Academy, and Scarborough Film Festival's resident blogger, freelance journalist (and Elizabeth's cousin to boot) Laurence Boag-Matthews.
A Q&A with attending filmmakers will follow the screening, whereupon the panel will announce the winner and runner-up.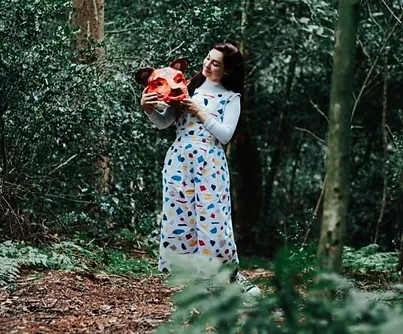 November 11, 5pm, Stephen Joseph Theatre bar: Gala Drinks Reception, Celebrating The Filmmakers
SCARBOROUGH Film Festival partners with Brass Castle to celebrate East Coast filmmakers and their work. Those purchasing a ticket for the Yorkshire Shorts film programme automatically will book a place at the drinks reception and receive a free Brass Castle beer when they show the ticket at the bar.
​This is an opportunity for audience to meet the filmmakers and judges in an informal setting, for people to network and for plans for future collaborations to be hatched.
November 11, 7.45pm, McCarthy Cinema, Stephen Joseph Theatre: Revive, live performance
REVIVE combines live music and spoken word with a chance to see archive film through a new lens. Environmental archive film from Martha Cattell's Nature Matters project for the Yorkshire and North East Film Archives will be given new music or spoken-word scores by five performers with links to Scarborough.
Step forward: musical comedian Charlotte Brooke, poet and actor Tanya-Loretta Dee, rap artist Charles Kirby, poet Charlotte Oliver and singer-songwriter Jon Plant. Book a ticket for the Yorkshire Shorts programme to attend this event.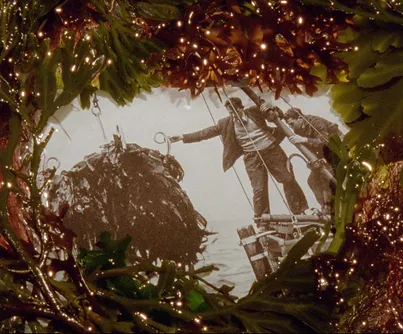 November 12, 11am, SeaGrown, Scarborough Harbour: Stories Of The Sea: Artist Moving Image
STORIES Of The Sea explores the work of artists who have focused on communities living in or near the sea.
Julia Parks's Seaweed Stories looks at the relationship between people, seaweed and landscape, in the past, present and future. Webb-Ellis's For The First Baby Born In Space was filmed during the long, hot summer of 2018, recording teenagers from Whiby and elsewhere as their coming of age coincides with a time when so much else is in flux.
Both Julia Parks and Webb-Ellis will attend a Q&A after the screening. Please note: unfortunately the SeaGrown boat is accessible only via a series of steps, so this venue is not suitable for wheelchair users or people with mobility issues.
What is an "artist moving image"? "Not necessarily narrative or documentary, though there is a narrative to both these works but they are pieces of art on film that move," says Elizabeth.
November 12, 4pm, Railway Club, next to Scarborough railway station: So Which Band Is Your Boyfriend In?, film exploring real-life experiences of non-male participants in the UK's DIY/underground music scenes, plus Q&A with local musicians
THROUGH a series of interviews with members of the music community, this film looks at their experiences – both positive and negative – and investigates what can be done to make music more accessible to everyone, regardless of gender. Screened in collaboration with Record Revivals, the record store next to the SJT.
November 12, Railway Club, Scarborough, 7pm: screening of Babylon preceded by premiere of visual companion piece to The Hydrogen Trees' debut album Secret Arcade and followed by Rebel Radics Sound System live set
IN Franco Rosso's Babylon, a 1980 cult classic that pulsates with an irresistible dub soundtrack, a young Blue (Brinsley Forde) aims for success at a Reggae Sound System competition.
Presented in collaboration with Record Revivals, the screening will be followed by a live dub set by Dan from Scarborough's very own Rebel Radics Sound System, who will give a brief introduction to the film and sound system culture. The film will be played through Rebel Radics sound system too.
November 9 to 12, at Mandy Apple Artspace, 44, Newborough, Scarborough, Developing Filmmakers, Thursday, 10am to 2pm; Friday to Sunday, 10am to 4pm
IN response to Scarborough being home to vibrant young film-making talent, Scarborough Film Festival will showcase a selection of their films on a loop in Mandy Apple's intimate lounge space throughout the four days.
​Featured work includes: Vida, devised, shot and produced by BA Acting students from CU (Coventry University) Scarborough; Birds On The Edge, produced by Arcade, in partnership with North York Moors National Park Trust and Scarborough Pupil Referral Service; Written In The Waves, devised, shot and produced by CU Scarborough BA Acting students Chavez Idjerhe, Crystal Jackson, Selwyn Peterken and Luke Simpson; The Wait, written, directed and starring first-time filmmaker, Jessica Vautier.
This event is FREE and unticketed; feel free to drop in any time.
Scarborough Film Festival tickets can be booked at https://www.scarboroughfilmfestival.co.uk/festival.