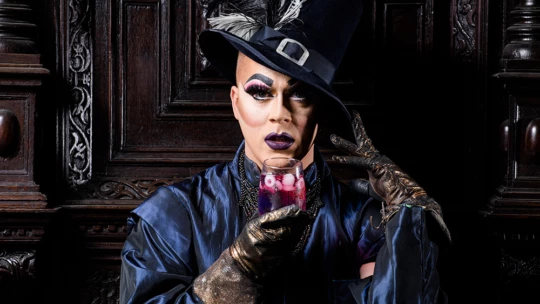 YORK drag diva deluxe Velma Celli invites you to "release your inner outlaw" at his outre Outlaw Live cabaret soiree tonight.
Hosted by York Gin at the National Centre for Early Music, in Walmgate, York, the night promises song, laughter and gin as Velma and friends "unleash a riot of glamorous outrage".
"York is a city of outlaws: Guy Fawkes was born here. Dick Turpin was hanged here," says York Gin Company events coordinator Harri Marshall. "It's even home to the super-strength York Gin Outlaw, which comes with a warning: 'Drink, with ice, tonic … and care'.
"Now – for one night only – one of the UK's 'baddest' drag queens will be celebrating all that's naughty, villainous and defiantly outrageous about York and its outlaws."
Since returning home from a month of Royal Caribbean Cruise Ships shows, Velma Celli already has played a "banging show" at York Theatre Royal, presenting Me And My Divas, a celebration of "the songs and behaviour of all your favourite divas" with York singer Jess Steel and West End leading lady Gina Murray, at York Theatre Royal last Saturday.
That cabaret night of impressions and banter celebrated Whitney, Aretha, Bassey, Streisand, Garland, Cilla, Dolly, Madonna, Adele, Sia and latest addition Jessie J.
Tomorrow's new show will raise a glass to the outlaw spirit of Guy Fawkes and Dick Turpin and general naughtiness at large in York with a riot of rebellious songs and a gin cocktail on arrival.
"If you love drag, gin, and being just a little bit naughty, this one's definitely for you," says Velma, the vocal drag creation of West End musical actor Ian Stroughair, 39.
"It'll be my first time at the NCEM., and the gig came about after I popped into York Gin in the week when I'd been doing Funny Girls in Blackpool, and it turned out the woman serving me had seen Funny Girls the night before," says Ian.
"This led to the idea of doing this Outlaw Live show with me, a small band, Guy Fawkes-inspired songs; songs from Six, the musical about Henry VIII's wives; songs related to baddies in history, and the opportunity for everyone to drink nice cocktails.
"I'll be in kind of Guy Fawkes mode, and the plan is that we'll see how this one goes and then look at doing a night with a different York Gin theme."
Meanwhile, Ian is spreading Velma's wings at the drag diva's regular haunt of Impossible York, in St Helen's Square, adding to the repertoire of shows in the WonderBar.
He has resumed performing The Velma Celli Show at 8pm on the last Friday of each month (except this month, when the gig moved to last night (24/3/2022).
Two sittings of Velma's Drag Brunch are held on the first Saturday of each month, to be joined on the second Saturday by the new Movie Musical Brunch from April 9, when Ian's special guest will be West End musical star Zoe Curlett, who played Christine in The Phantom Of The Opera and Corsette in Les Miserables.
Velma also launched a new Back To The 80s night in the WonderBar on March 18, when the 8pm set gloried in the songs of David Bowie, George, Michael, Wham! and more Eighties' favourites besides.
At the planning stage is a QNY (Queer Night York) regular night. "The idea behind it is that there isn't an essentially gay venue in York that's been successful, and what's needed is a safe space for LGBTQIA+ people," says Ian.
"QNY won't be a Velma Celli night; there won't be a performance; I'll be hosting the night and DJing, and again it will be monthly in the WonderBar, with the starting date yet to be confirmed."
One Velma Celli show fell by the wayside last month: the February 26 performance of Irreplaceable, a celebration of David Bowie, was cancelled at Theatre@41, Monkgate.
We must wait for that gift of sound and vision, but one day, hopefully, Irreplaceable will be added to Velma's portfolio of York performances. "So far, I've done it in a week's run of four shows in Southampton," says Ian.
"It came about because my friend Sarah Walker is obsessed with Bowie, and I've created the show for her."
Ian shares that passion. "There are so many amazing David Bowie songs, and in my case it was the Labyrinth era that I first loved, and also how he's been so influential. Look at Lady Gaga, for example," he says.
"In the show, my make-up is inspired by Aladdin Sane and my look is kind of androgynous: I wear a black suit jacket and a long, hooped skirt.
"I do a section about how Bowie was gender-bending before anyone else came out doing that, skipping around Manhattan in a catsuit, and there's also a bit about RuPaul in there, who was such a big, big fan."
Irreplaceable is yet to replace its scrapped Theatre@41 show, but one further show in the diary is Velma Celli's A Brief History Of Drag at Pocklington Arts Centre on June 30.
Velma Celli: Outlaw Live, presented by York Gin, at National Centre for Early Music, York, tonight (25/3/2022); doors, 7pm; show, 8pm to 10.30pm. Box office: tickettailor.com/events/yorkgin/590817/. For Pocklington, 01759 301547 or at pocklingtonartscentre.co.uk. For Impossible York shows and brunches, visit impossibleyork.com.