SOUTH Bank surrealist Lincoln Lightfoot is letting his gloriously ridiculous B-movie nightmares loose on unsuspecting York at the Micklegate Social and Fossgate Social cafe bars from this weekend.
For two months, past meets present and a forewarned future both in retro art style and subject matter in Revelation, his humorously absurdist depictions of surreal encounters with beasts and creatures as they take over landmark locations.
On show in Micklegate Social from Saturday's 6pm to 10pm launch will be the first release of Lincoln's larger, compelling paintings, 150 by 100cm in size, complemented by giclee prints of those new works at Fossgate Social. All works are for sale.
Born in Hartlepool in 1992, Lincoln developed his love of York, its heritage, buildings and culture, when studying Fine Art and Contemporary Practice at York St John University and first exhibited prints at Fossgate Social in 2018.
Now comes Revelation's exploration of surreal happenings in compositions that echo the B-movie poster art of the 1950s and '60s. "During that time, the Cold War kept us in perpetual fear of extinction from nuclear Armageddon until the fall of the Berlin Wall and the dissolution of the Soviet bloc," says Lincoln.
"Today we have growing similarities re-emerging due to the conflict in the Ukraine, which threatens to spill over into the wider world."
Through engagement with art, we can deal with these nightmares, argues Lincoln, who says children confront and make sense of a dangerous world through stories and rhymes and are taught of danger through the safe spaces of literature and illustration that deal with anecdote and myth.
Revelation taps into our present condition of fear that news media and politicians perpetuate in our post Covid-19 world, suggests Lincoln. "This show, with its threatening visitations of beasts and creatures, attempts to highlight these fears through a safe and comical lens," he says.
"Juxtaposed with local scenes of our story-book city, it's not hard to imagine incredible things happening in this part of the world because they already have. Walking through York's streets and passageways, our heritage resonates in the present. Popular with shoppers and scholars alike, high art co-exists with popular culture."
Further work by Lincoln this year will see this 2021 and 2022 York Open Studios artist branching out to recognisable global locations as he pursues his passion for art full time after leaving his post as a secondary school head of art in County Durham.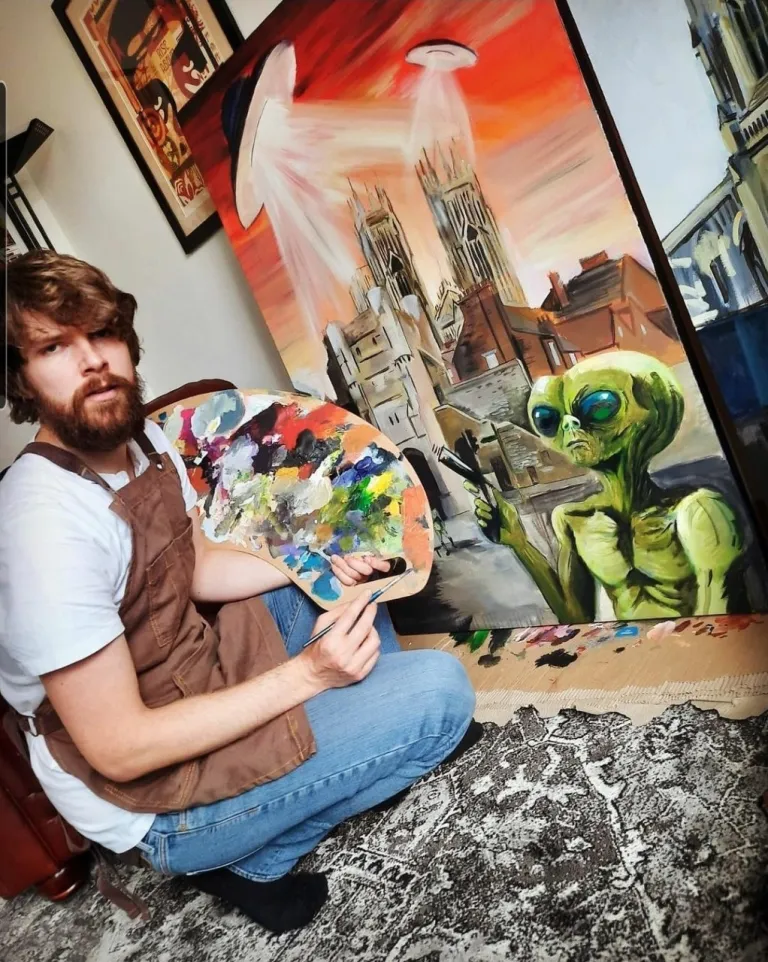 Here CharlesHutchPress discusses art, heritage, York, history's yoke, night terrors and teaching with artist Lincoln Lightfoot.
Explain the Revelation exhibition title, Lincoln.
"Revelation is an appropriate title hinting at things supernatural. It's no coincidence that it suggests happenings of biblical significance as it refers to the last book of the Bible and a second coming. It's also apt as the word literally means 'a revealing'."
"Living with history" weighs heavy on York's shoulders. In your case, you imagine the worst nightmare of living with that history, or living with forces other than tourists taking over the city, be they dinosaurs or aliens. Discuss….
"So many significant events have already taken place; one is in a perpetual state of anticipation as to what the next will be! After the massacre of Jews in Clifford's Tower, war with Scots, sieges in the English Civil War, lightning striking the Minster on the eve of the ordination of a controversial bishop, York is expectant with ghost hunters and sci-fi buffs.

"In the present-day, it is becoming easier to distrust politicians, large company executives and the media. It seems to me that the world has become laughably money driven with hidden initiatives. When you can't believe reality, it makes my artwork more relatable."

Do you have night terrors or is there more of the B-movie humorist about your imagery and how you see life in York?
"I definitely find life amusing, I think in the hardest times it's the best way to deal with it. I'm a big Monty Python fan. My work at degree level was described as 'very Monty Python'. One of my favourite sketches has to be the crucifixion scene in The Life Of Brian. I would hope that my work can offer something similar in the way of humour."
How has your own life influenced such a disposition?
"When I was 22, my aortic artery dissected in the gym due to a large aneurysm in the aortic arch. Fortunately, I don't remember much of the initial incident and unbelievably awoke from an induced coma three days later.
"I now live with a pacemaker, metal heart valve and numerous aortic stints and grafts. Before this I was a healthy, athletic, basketball-playing young man and there is no clear diagnosis for my weak connective tissue.
"Following this incident, I find it incredibly difficult to get angry. I considered myself 'the unluckiest luckiest man'. I conclude that life can be so laughably unbearable. Imagine living in one of my paintings or a terrible B-movie. I recall returning home from my stint in hospital and drowning under the weight of my duvet. I lay there laughing at myself. Can't remember how it ended; I probably had to call for help once I stopped laughing."
Fear is ramping up. Covid. Russia's invasion of Ukraine. Oppressive, 24-hour rolling media coverage and cynical, manipulative politicians play their part in spreading that fear. Cue your worst nightmare artworks. Discuss…
"At such times of crisis when the population lives in fear, art mirrors these fears. A Cold War fear of nuclear Armageddon has now returned with Putin threatening to nuke us daily because of continuing support for the Ukrainians.
"When I was younger, I took no interest in the news. I was told by my father that 'you need to take an interest in what is going on in the world! You are part of it after all'! I probably thought it was 'boring'; these days I wonder if my generation is trying to make it more interesting and has turned to unbelievable plots lines, twists and unrealistic personalities.
"I question the stupidity of it all and then realise it is naive to believe that the world has never been this annoyingly worrying before. The work aims to echo the zeitgeist of our times.
"From the Brothers Grimm to Disney movies, we are taught to deal with difficult real-life scenarios. My disbelief for current world events cushions my conscience. As touched on before, I hope that my artwork is a humorous release from the real world.
"I find it increasingly reminiscent of the creation of Godzilla in 1954. Godzilla being a Hollywood-whitewashed Hiroshima metaphor. The 'King of Monsters!' is a reminder of past atrocities in the hope that they are never to be repeated."
What are the essential differences between your larger works and smaller pieces?
"My larger pieces allude to history painting as opposed to easel painting. Traditionally, history paintings have a greater importance not just due to their size, but the implied narratives they espouse too.
"I'm compelled by the work of John Martin and his romantic, large, biblical, end-of-the-world paintings. It is said that Victorian audiences would await viewing his works in anticipation like a modern audience about to view Roland Emmerich's films 2012 or The Day After Tomorrow.
"Additional effects would be employed, lights of the gallery would flicker and ghastly thundering noises would be heard; this would trigger an emotive response from the audience, many releasing great gasps and screams.
"There's also a link to his work in the exhibition title, Revelation, as many of his works depict frightening biblical and end-of-the-world scenes.
"Generations now are disaffected by such static imagery. Applying comic relief ironically flips the emotive response and appeals to the emerging NFT [non-fungible token] culture."

What makes York such a wonderful city to depict in art?
"York is a picture-book city. Its beauty and architecture is reason enough to visit but don't be fooled; York isn't just a pretty face. It has compelling history to accompany its looks, whatever your favourite period in time.
"There is architecture from every age, stepping into an architectural time machine, from the lonely Roman column next to the Minster to the mediaeval Clifford's Tower. Painting its complex architecture keeps you looking and the eye never tires at nuances of light and shadow raking across buttresses, ramparts, arches and chimneys.
"With banal street names such as Mad Alice Lane and Whipmawhopmagate, you can easily be left questioning whether or not this is a real place. One can see why the city has been captured by so many artists over the centuries."
How would you describe York to someone who has never been here?
"If you are visiting the city for the first time, you can simply find your way into the centre by heading for York's iconic Minster. A planning law means that no other structure can be built higher than this magnificent Gothic construction.
"The city is beautiful, yes, but it is unique and intricate. I'm bedazzled by the stone masonry, not only on York Minster but across the city too.
"Life can be stressful at times, but a walk amongst the elaborate architectural beauty forces you out of yourself. Every venture into the city, one notices something new like a quaint passageway to hidden dwellings, or ornamentation such as gargoyles and unique roof features.
"Looking upwards, you discover perspectives that are surely wrong, such as bending verticals and sloping horizontals.
"As a student living in the city, I was over the moon to discover York's many snickelways and to gain knowledge and mastery over the medieval street plan. I would recommend a journey out in early morning or twilight as the light rakes across surfaces and there are not many people around. This is when the city is at its most expectant."
What's coming next for you beyond Revelation?
"At the moment I have a number of pieces in the pipeline that focus on more world-renowned landmarks. Once the current exhibition is under way, I intend to start another body of work in readiness for exhibition. I'm hoping to further develop my skills as a painter and also have some new exploits in the form of large-scale mural commissions."
You have followed your father – a school head of art & design – into teaching that very same subject, with considerable prowess, but you decided to leave your full-time teaching post at Easter. Why?
"I developed an inherent love for teaching having worked five consecutive summers at Brant Lake Camp in the Adirondacks. It has been a hard decision to make after teaching for eight years and leading the art, craft & design department for six of those.
"I concocted thrilling projects such as 'Beware of the Plants' and 'Impossible Worlds', and ran trips and workshops not only to educate but to fuel creative thought too. After developing key cognitive skills, I would encourage students to develop ideas and create on a large scale in a variety of exciting materials.
"I remember being told that I should stick to small-scale 'secondary school art' to make things easier. The pandemic took the wind out of my sails and I was forced to think creatively and had to leave a lot of the materiality behind.
"After reading a lot of Ken Robinson [director of the Arts in Schools Project], and with an ever-increasing love for my own subject, I became frustrated with the one-size-fits-all approach. The irony is that the leadership of and in schools isn't in the hands of educators but merely business execs whose sole aim is to produce the best high-performing products.

"After much discussion with my fiancé, close friends and relatives, I've decided to focus on fully practising what I was preaching full time. Although I'm incredibly excited about changing my career path, I'm still worried and angered by the ever-increasing cuts to funding in art and design education.
"That's paired with an overwhelming increase in mental and consequently physical health problems in the teaching profession and a mass feeling of under-appreciation, which was documented in recent Times Educational Supplements."
Might you do some freelance teaching?
"I don't think I will ever rule out a return to teaching if an exciting opportunity arises. In January, I was invited to Hempland Primary School, in Heworth, to deliver an artist talk and workshop to Year 4 students. It was great to see the students so excited by my unusual works of art.
"I incredibly enjoyed the event and the work produced by students was fantastic! In the past I've run adult classes, which I have also greatly enjoyed, and I always consider returning to Brant Lake Camp each summer, where my love for teaching began."
Micklegate Social and Fossgate Social, York, present Lincoln Lightfoot's exhibition Revelation from May 7 to July 7.