YORK Open Studios returns to its traditional spring slot for the next two weekends after last year's temporary Covid-enforced detour to July.
More than 150 artists and makers will be showing and selling their work within their homes and workspaces, giving visitors an opportunity to view and buy "bespoke pieces to suit every budget", from 10am to 5pm on April 2,3, 9 and 10, preceded by a 6pm to 9pm preview on April 1.
As ever, the range of artists' work encompasses painting and print, illustration, drawing and mixed media, ceramics, glass and sculpture, jewellery, textiles, photography and installation art. Check out the artists' directory listings at yorkopenstudios.co.uk to find out who is participating and who will be opening up early for the preview.
CharlesHutchPress will highlight the 30 newcomers in a week-long preview, in map order, that starts today with Laural Duval, Mandi Grant, Amanda Allmark, Marie Murphy, Poppy O'Rourke and Kate Semple.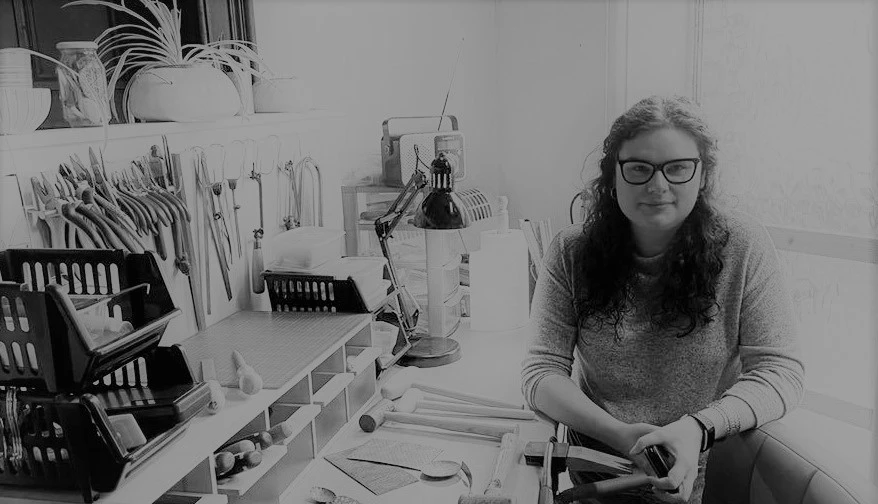 Laura Duval, mixed media, South Bank Studios, Southlands Methodist Church, 97 Bishopthorpe Road, York
ARTIST, designer and metalsmith Laura specialises in ceramics and metalwork, using copper as her first choice, although she does utilise silver too.

"I create bowls, cutlery, serving utensils, tableware, and other decorative items with the hope that my work will not only be admired, but also be used in the everyday, to create a sense of occasion," she says. "All my creations are handmade one-of-a-kind pieces; no two pieces will ever be exactly the same."
Mandi Grant, painting, South Bank Studios, Southlands Methodist Church, 97 Bishopthorpe Road, York
INSPIRED by the architectural features of York buildings, the lush vegetation of allotments and livestock, Mandi creates lyrical paintings of shapes, colours and textures in combinations of oil, acrylic and wax painting techniques.
She has enjoyed a long and career in a tertiary college's lively art department, teaching A-level and pre-degree foundation courses in art and design.

Mandi has embraced the challenges of combining her studies of fashion and textiles with taking a degree course in fine art painting and printmaking, encompassing the visual richness these subject areas afford.
Amanda Allmark, ceramics, 70 Scott Street, York
EXHIBITING as part of the York College student showcase, Amanda's ceramics are influenced by her life experiences and an ongoing mission to promote self-love, self-empowerment and our right, as human beings, to shine.
Drawing on a therapeutic background, she uses creativity to highlight human behaviours and emotions, encouraging awareness with a combination of words and illustration on the ceramic surface.
She handcrafts her contemporary ceramics by working with form and visual language, her pieces being at once impactful and playful and marked by beautifully burnished surfaces.
"The subtle colours and feminine lines of my designs work in contrast with strong and empowered messages," she says.
Marie Murphy, textiles, 38 Scarcroft Road, York
MARIE set up her textiles studio in 2019 with a focus on illustration and surface pattern design. Her modern and bold homeware and stationery combine a love of geometric art, architecture, print and embroidery.
"My work could be described as a mix of mid-century Brutalism meets a riot of colour," she says. "Designs and paintings begin as ideas in a sketchbook, as line drawings or the use of bold blocks of colours. These are then translated into paintings and illustrations."
Those paintings and illustrations then form the basis for Marie's digital patterns, prints and embroideries, influenced by such artist and designers as Bridget Riley, John Pawson and Anni Albers.
Poppy O'Rourke, illustration, 13 East Mount Road, York
SELF-TAUGHT artist Poppy works in a variety of media to create feminist- inspired artwork, spanning digital illustration, painting and mixed media.
Poppy, who moved to York from Brighton in 2017 to study, favours intense colour and bold, minimalist designs, as seen in her Wonky Women series that aims to depict the female form in all its uneven beauty.
In her latest work, she experiments with colour and text to create unique designs centred around feminist quotes.
Kate Semple, illustration, painting, ceramics, 13 East Mount Road, York
KATE has worked in the creative industry for 30 years, her experience ranging from special-effects painting in the film industry to designing and styling for editorial and working as a freelance Illustrator.

Since leaving London 19 years ago, she has created art, illustration and graphics for a variety of clients from her home studio in a wonky old Victorian house in York, where she also loves working in 3D, hand-building ceramic sculptures.
"I've drawn on recent personal experiences to create a new body of work that explores different mediums, whether ceramics, printmaking or drawing on both paper and clay," says Kate, who is having a kiln installed in her garden shed
In 2022, Kate will be revisiting her Map Of York, first created in lockdown in 2020. Look out too for the illustration-led branding work she has done for Flori Bakery, in Nunnery Lane, spanning packaging, colouring books, tote bags, T-shirts and cards.
A constant stream of work for Kate is illustrating buildings, not least for the boutique hotel chain Guest House Hotels, both in York and Bath. She also created three paintings for a range of merchandise in the Ryedale Folk Museum shop in Hutton-le-Hole.
In focus tomorrow: Carol Douglas, painting; Anthea Peters, jewellery; Derek Gauld, landscape printmaking; Phil Bixby, photography; Jacqueline Warrington, jewellery; and Richard Frost, furniture.