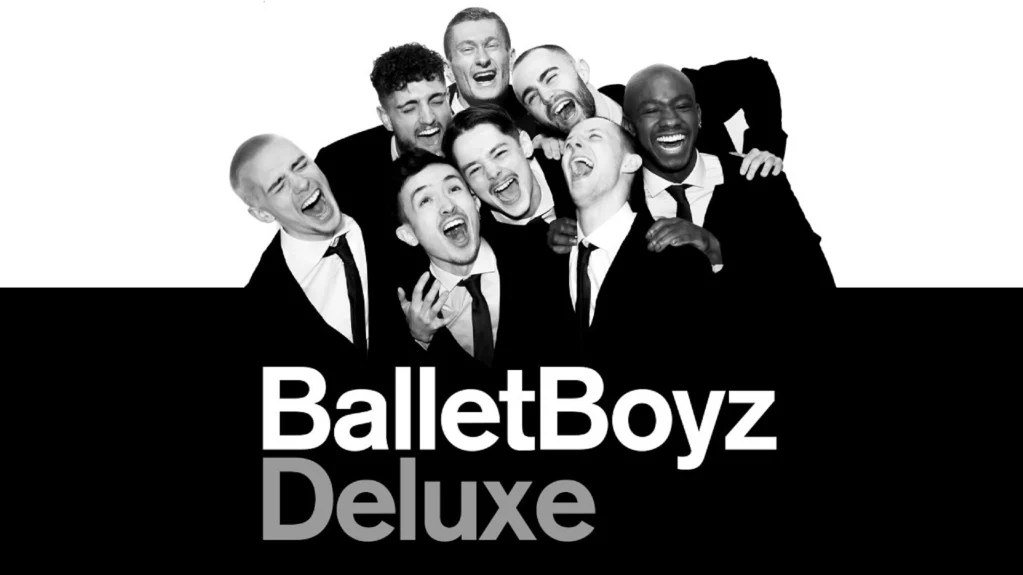 MICHAEL Nunn and William Trevitt's BalletBoyz return to York tonight with what began as the boisterous, bold company's 20th anniversary show, now running into a 23rd year.
Eight young dancers interweave in two mesmeric dances, fused with the BalletBoyz' trademark witty use of film and behind-the-scenes content in the 7.30pm performance of BalletBoyz Deluxe at the Grand Opera House.
Deluxe features a commission from choreographer Xie Xin and composer Jiang Shaofeng, followed by Punchdrunk's Maxine Doyle's collaboration with jazz musician and composer Cassie Kinoshi, from SEED Ensemble.
Tickets are still available on 0844 871 7615 or atgtickets.com/York.
MICHAEL Nunn and William Trevitt are marking the extended 20th anniversary of their innovative dance company BalletBoyz by looking back on their achievements in Deluxe.
Has it gone as expected? "I thought we would be miles more successful," says Nunn. "I'm not joking. It's been a struggle." "A complete disaster," chips in Trevitt. Cue a mutual collapse into laughter.
There, in a nutshell, you have the essence of BalletBoyz. They are two friends who have done more than any other classically-trained dancers to popularise dance in this country – to take it into new places, push it into new formats, while making it accessible.
They have adapted to a constant struggle with funding and changing audiences. They have made TV programmes and films, discovered new choreographers, worked with great dancers such as Sylvie Guillem and Darcey Bussell, shaped entirely raw talents and negotiated with the biggest ballet companies in the world.
At the root of it all, is that friendship, that bond between them. "You just get on with people sometimes, don't you," says Nunn, now 55, with a smile. At no point have they fallen out; nor have they ever taken the huge impact they have made or the importance of what they do too seriously.
"We do work extremely hard, but it never feels like it's the main thing, we could always walk away from it, and it wouldn't be a disaster," says Trevitt, 53.
Nunn jumps in. "It's basically skipping about to music. We have to keep telling ourselves that. It's not the end of the world. Let's just do the best we can."
They are celebrating the formal foundation of their company in the BalletBoyz Deluxe tour, where the latest BalletBoyz company of eight dancers performs works by two woman choreographers, Maxine Doyle, of Punchdrunk theatre fame, and Xie Xin, of TAO Dance Theatre, from China.
The original BalletBoyz – Nunn and Trevitt themselves – have known each other since they met as students at the Royal Ballet School, both joining the company in 1987. They danced there for 12 years, but even while they were leading company members, they pushed out in other directions that interested them.
Their first joint project, in fact, was taking audition photographs for students at the school in 1989. "It was a little business opportunity, and we put our money together to buy a camera," Trevitt remembers. "We liked techie gear," says Nunn. "And we set up a dark room in Michael's loft and would spend all night processing the pictures," remembers Trevitt.
It sounds entrepreneurial and smart – rather setting the pattern for their subsequent careers. Nunn laughs. "I think probably not entrepreneurial," he says. "I think we just liked working with each other and it's very hard to involve people on the outside, so you just do it for yourself.
"It was a bit like that when we started the company – we were the only people we knew who would actually turn up, and we were the only people we could afford to pay. All the projects we have ever done have started from very small seeds I suppose."
In 1999, just before they left the Royal Ballet to set up on their own, they made a hugely successful four-part television series for Channel 4 about their lives as ordinary dancers called BalletBoyz. The name stuck, despite their best efforts to shed it.
"We always thought it was a horrible name," says Trevitt. "Because we weren't boys – by the time we started we were 30 – and we didn't do ballet anymore," adds Nunn.
The company has been through many incarnations, beginning with them dancing Russell Maliphant's Torsion and only taking on its all-male mantle in 2011. 'BalletBoyz' has always covered not only their stage productions, but also the films that Nunn and Trevitt have made that began with short videos to cover the gaps in performance – "We felt we could find an interesting way of covering the pause while you did a quick change," says Trevitt – and have become increasingly ambitious.
What is the secret of their success? "I think we are very different as people," says Nunn. "I think if you're too similar it doesn't work in the creative world." Trevitt adds: "There is a practical difference where if we have an issue that needs resolving, I will try to fix it and Michael will destroy it and start again. A lot of what we do is working out which of these approaches is appropriate for a particular problem. It means we are thinking about the same thing but from different angles"
They both grin. "We made a pact more than 25 years ago that we would only work with each other," says Nunn. "It's a strength to work as a partnership. You give something away that somebody else holds for you. I think if that wasn't there it would collapse somehow. I think we're braver, because there are two of us. It's much easier to take a huge risk, both financially and artistically, if you aredoing it with someone else."
The other quality that binds them is their constant readiness to come up with new ideas, to think outside the box. "Even now we have probably got five or six ideas on the go that may or may not happen," says Nunn.
Interview by Sarah Crompton