HENRY VIII and the murder of a York glazier take top spot in Charles Hutchinson's pick of July highlights with outdoor cinema on its way too.
Community event of the month: York Theatre Royal in Sovereign, King's Manor, Exhibition Square, York, July 15 to 30
YORK Theatre Royal's large-scale community production, York playwright Mike Kenny's adaptation of C J Sansom's Tudor-set murder mystery Sovereign, will be staged outdoors at King's Manor, where part of the story takes place. Henry VIII even makes an appearance.
Two professional actors, Fergus Rattigan's disabled lawyer Matthew Shardlake and Sam Thorpe-Spinks' assistant Jack Barak, lead the 120-strong community company of actors, singers, musicians and backstage workers. Tickets update: sold out.
Exhibition of the week: Tom Wilson, City Screen Picturehouse café bar, Coney Street, York, until July 29
YORK punk expressionist artist, designer, playwright, theatre director and tutor Tom Wilson is exhibiting his riots of colour at City Screen Picturehouse for the first time with sale proceeds going to MAP (Medical Aid for Palestinians). Thirty-five works are on display, priced at £175 to £700.
"My art looks like an explosion," says Wilson, whose dynamic abstract artwork is influenced by Kandinsky, Max Earnst, Otto Dix, Outsider art, German Expressionism and Rayonism (Russian Expressionism).
Tribute show of the week: Steve Steinman's Anything For Love, The Meat Loaf Story, York Barbican, tonight, 7.30pm
FOR more than 30 years, Nottingham's Steve Steinman has toured the world with his tribute to the songs of Jim Steinman and Meat Loaf (real name Marvin Lee Aday). Now he presents his new production, showcasing 25 chunks of Meat Loaf and Steinman's prime cuts.
Anything For Love combines Steve's humour and a ten-piece band with such rock-operatic favourites as Bat Out Of Hell, Paradise By The Dashboard Light, Took The Words Right Out Of My Mouth, Dead Ringer For Love and Total Eclipse Of The Heart. Box office: yorkbarbican.co.uk.
Don't miss at York Early Music Festival: The Sixteen, York Minster, Sunday, 8pm
THE Sixteen's 2023 Choral Pilgrimage is inspired by the influence of Renaissance composer William Byrd in an exploration of his life, works and pervading Roman Catholic faith. His legacy is marked by two new compositions by Dobrinka Tabakova, bringing his musical heritage into the modern day.
The premieres, Arise Lord Into Thy Rest and Turn Our Captivity, highlight Byrd's influence of modern polyphony and showcase The Sixteen choir in a new light. Director Harry Christophers' programme also features works by Van Wilder, de Monte, Clemens Non Papa and Byrd himself. Box office: 01904 658338 or tickets.ncem.co.uk.
American play of the week: Amerrycan Theatre in Our Town, Theatre@41, Monkgate, York, Tuesday to Saturday, 7.30pm plus 2.30pm Saturday matinee
FOUNDER Bryan Bounds directs Yorkshire's American company, Amerrycan Theatre, in the York premiere of "America's greatest play", Thornton Wilder's Pulitzer Prize-winning 1938 study of mindfulness, mortality and brevity of life, Our Town.
"Wilder's portrait of life, love and death set in Grover's Corners, New Hampshire, a fictional New England town at the start of the 20th century, could happen just as easily in Pocklington," says Bounds. Tracing the romance and marriage of Emily Webb (Emily Belcher) and George Gibbs (Frankie Bounds), Our Town reveals the hidden mysteries behind the smallest details of everyday life. Box office: tickets.41monkgate.co.uk.
Outdoor film event of the week: City Screen Picturehouse presents Movies In The Moonlight, Museum Gardens, York, July 14 to 16, doors, 7.30pm; screenings at sundown, 9.15pm approx
CITY Screen Picturehouse heads outdoors for three films in three nights, kicking off on Friday with The Super Mario Bros Movie, wherein Brooklyn plumbers Mario (Chris Pratt) and brother Luigi (Charlie Day) are transported down a mysterious pipe and wander into a magical new world.
In Mamma Mia! The Movie, next Saturday, Greek island bride-to-be Sophie (Amanda Seyfried) is set on finding out who her father is. In next Sunday's film, Jaws, Roy Scheider, Robert Shaw and Richard Dreyfuss star as a police chief, marine scientist and grizzled fisherman set out to stop a gigantic great shark that has been menacing the island community of Amity. Box office: picturehouses.com/outdoor-cinema.
Pop nostalgia of the week: The Counterfeit Seventies, Joseph Rowntree Theatre, York, July 16, 7.30pm
IN the wake of The Counterfeit Sixties, here comes, you guessed it, The Counterfeit Seventies, the decade of glam rock, punk, new wave and everything in between. Revisit Slade, Sweet, T Rex, the Bay City Rollers and plenty more, aided by a light show, costumes of the period and archival footage of bands and events from the era. Box office: 01904 501935 or josephrowntreetheatre.co.uk.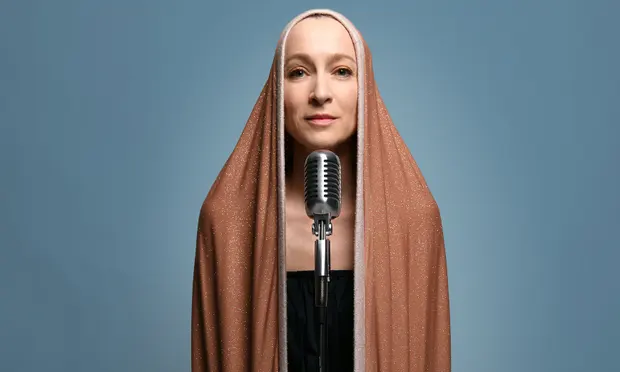 Solo show of the week: Sarah-Louise Young in The Silent Treatment, Theatre@41, Monkgate, York, July 16, 7pm
AFTER her celebrations of Kate Bush (An Evening Without…) and Julie Andrews (Julie Madly Deeply), writer-performer Sarah-Louise Young returns to Theatre@41 with the highly personal true story of a singer who loses her voice and embarks on an unexpected journey of self-revelation.
Warning: The show includes themes of trauma and sexual violence. As The Stage review put it, The Silent Treatment is a "a war cry and a message of resilience and hope to anyone who has faced abuse and been made to feel guilty about it". Box office: tickets.41monkgate.co.uk.