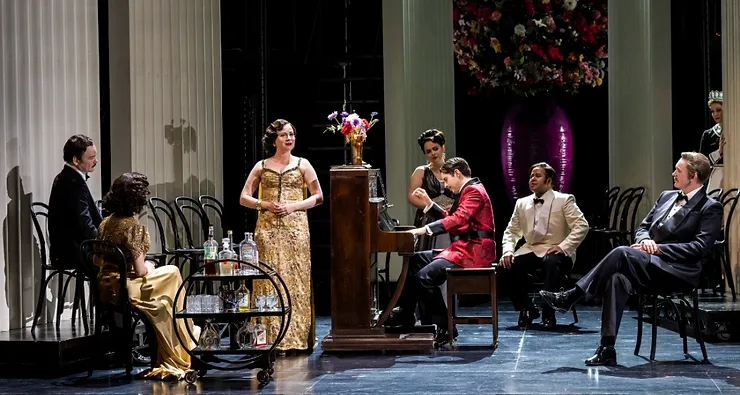 IN a time of financial stringency, you would not automatically think of one of Puccini's least-popular operas as compelling box office.
Unless of course you were willing to take the risks that Opera North has become famous for and could find a way to fit it into your Green Season, redeploying old sets and costumes and considering how to save the planet while also saving money.
Nor would La Rondine (The Swallow) spring easily to most minds as a parting gesture: it marks general director Richard Mantle's farewell to the company he joined in 1994, the very year that Opera North staged its first production of the work (which also happens to be one of his 'Top Ten' operas). Nothing ventured, nothing gained has surely been Mantle's motto – and it has worked out admirably.
Thus James Hurley's new production has a dual task: first to convince that La Rondine needs to be seen in Leeds again and, if so, that it deserves to supplant Francesca Zambello's successful 1994 effort, which enjoyed two revivals.
Leslie Travers's set makes use of two multi-purpose steel fabrications on wheels, stretching over two storeys. Kept close together they serve to outline Magda's salon; they are opened up to accommodate the festivities chez Bullier, with a gigantic vase of flowers between. The remaining atmosphere is left to the canny lighting of Paule Constable and Ben Pickersgill, notably in Act 3, where you can almost smell the Mediterranean beneath the blue sky.
Three of the five principals are making their company debuts, which adds to the fun. Galina Averina is one, an enigmatic Magda singing with considerable charm that is never quite matched by her appearance.
While one accepts that she needs to blend in with the crowd at Bullier's, her homely dress makes her stand out for the wrong reason, nor does her 1920s' wig do her any favours. You even have to wonder what it is that so allures Ruggero: how is it that someone so attractive in her biography image can have been made to look so ordinary?
Sébastien Guèze's Ruggero is ideal as the provincial innocent, clearly out of his depth in matters amatory, but his tenor is too often less than magnetic. It is not tight so much as lacking that extra flair which more carefree resonance might provide. Ultimately one has to ask what they really see in each other.
The contrast with the secondary lovers is stark. Claire Lees is marvellously flighty as Lisette, the perfect soubrette, thoroughly enjoying herself in her coloratura and catching the eye on her every appearance. There is no mistaking the chemistry between her and Elgan Llŷr Thomas's gallant bounder Prunier, whose tenor carries the necessary touch of steel.
Philip Smith makes the most of his acquiescent Rambaldo, to the point where one has to feel he is surely the better bet for Magda in the long run. Opera cannot work like that, of course.
Act 2 is the superb centrepiece of the evening. Here Hurley exercises total control over the comings and goings of the chorus, each with clearly defined roles. But none oversteps the mark, so that attention is never diverted from the principals, a tricky tightrope.
Gabrielle Dalton's costumes come into their own here, but equally effective is Lauren Poulton's buoyant choreography, which is further enlivened by a quartet of apache dancers.
Kerem Hasan's orchestra is consistently persuasive, especially in the slower waltzes, keeping a creamy momentum through Puccini's insistent tempo changes. It is a delight to be able to take refuge in the pit whenever the action above is less than convincing.
Should Zambello have been recycled? It is a close shave, but the overall achievement justifies this new approach.
Review by Martin Dreyer