PAPERBACK Theatre's debut national tour of their "utterly Brummie" The Wind In The Willows will conclude with two Theatre At The Mill performances on July 30 at Stillington, near York.
On the road since June 4, the Birmingham company's charming outdoor production will be heading to North Yorkshire for its only northern shows, directed by company co-founder Lucy Bird on her return to her roots.
Adapted for the stage from Kenneth Grahame's book by fellow co-founder George Attwell Gerhards, Toad's tale played to sell-out audiences at Paperback's own arts festival, Little But LIVE! 2021, and in the Assembly Festival Gardens at Coventry City of Culture 2021 with Attwell Gerhards playing the irrepressible Toad.
Now Nathan Blyth is pooping Toad's car horn on the tour, alongside Lucy Bird's Badger, Charis McRoberts' Mole and Carys Jones's Rat.
Introducing the play, Lucy says: "Mole has been stuck inside for far too long. Finally escaping their underground home, they team up with good friends Ratty, Badger and the loveably roguish Toad on an adventure to blow away the quarantine cobwebs.
"Mole and the gang must go head-to-head with a motor car, Her Majesty's Constabulary and, the greatest challenge of all, a legion of Weasels, Ferrets and Stoats, who have taken up residence in Toad Hall. Can our plucky band of heroes save the day?"
Here, Lucy answers CharlesHutchPress's questions on Toad and co, the company name and why Paperback Theatre are coming to Stillington.
Why call the company Paperback Theatre, Lucy?
"As a company, we're most interested in adaptations. Taking old stories and retelling them for a new age, re-examining them, or just bringing them back to life for modern audiences (as we do with The Wind In The Willows).
"The name Paperback relates to the idea of a well-worn paperback book that has been read again and again, with a bent spine and crinkled pages, because there's something that keeps drawing us back to those stories."
What drew you to staging The Wind In The Willows?
"Pre-pandemic, Paperback made more indoor shows for older audiences, but during the pandemic we pivoted to working outdoors, for Covid safety reasons, and even started producing our own outdoor festival, Little But LIVE!.
"We found that outdoor work attracted more family audiences, and when we came to programming our second version of the festival The Wind In the Willows was touted as the perfect show for an outdoor family festival.
"Moreover, we were interested in the parallels in the tale to hibernation/isolation and our national journey out of lockdown. That said, The Wind In The Willows has always been thrown around our artistic discussions; it's a book I loved as a child."
What are your first memories of the story?
"My parents only had a VHS player and no TV licence, and one of the only video sets we had was the stop-motion series from back in the '80s. Me and my brother watched it on repeat and routinely staged our own productions of it with other children in the village.
"I've run with that memory a fair amount in our staging and tried to create a low-tech, playful production that children could go away and stage themselves if they wanted to. We have sock puppets for ferrets, coconuts for horses' hooves and a great medley of kazoos to manage our sound effects."
Outdoor story equals perfect show for performances in the great outdoors. Discuss…
"I think there's a lot of truth to that; it makes locating the story easier. When we arrive at each venue on tour, we have to agree where the Wild Wood is, where Toad Hall is, or the Riverbank, so we know where to point when we refer to them.
"Normally there's a copse of trees – or indeed quite often a manor house looming in the distance that we can locate – which brings an extra exciting energy to the show.
"The Wind In The Willows is also a story about exploration and connecting with your local habitats after a long time away from them, so if you're telling it outside, it feels like a great way to get audiences to start that journey of reconnection themselves.
"That said, I love the challenge of telling an indoor story outside: the harder you and the audience have to work to commit to imagining that you are in the middle of a palace, or a church, when you are in the pelting rain or blistering sun, the more fun you can have, I think."
What is distinctive about George's adaptation?
"What's different about this production to others I've seen is, firstly, its pace. George has compressed this well-loved tale into just an hour and, as a result, it has a really fast-paced, fluid energy to it, which also informs the great comedy and slapstick that we've discovered in the show.
"What's particularly impressive and interesting is how much of the script has come straight from the book – which I think is really engaging for older audience members who may have a feeling of nostalgia for the original text – and yet how fresh and engaging it is for younger audiences."
How do you involve the audience in the show?
"It's an interactive show in the sense that we're constantly talking directly to the audience, or pretending that they're different characters in the show, but in a gentle way; we never get anyone up on stage or make them act out.
"We invite audiences to join in on our discoveries, to clap and cheer when the characters win something, or to groan in sympathy when we're a bit sad. But if they aren't feeling it that day, we just carry on…though we've yet to experience that!"
What is the message of The Wind In The Willows in 2022?
"There's a message about valuing nature and the countryside. Mainly though, given the last few years, for us it's about friendship and camaraderie in difficult times, about reconnecting with people you haven't seen in a while and helping them through the fun times and the tough times."
What does an "utterly Brummie" interpretation bring to the show?
"Accents, mainly! Our Rat and Toad are both from Birmingham originally so they play the characters with their home accents, and then we bring in a plethora of other ones to help distinguish our multi-rolling, also to reflect the diversity of a city like Birmingham.
"There are a few unique references to the city, like bits of dialect or items of costume that are specific to our local area (Rat has a Moseley Folk Festival T-shirt on).
"Also, because the show was originally made for urban audiences, we're looking at what urban wildlife is like. Our costumes and set are constructed out of recycled materials or bits of rubbish that we think the animals could have found hanging around to build their homes.
"I guess that also feeds into a message in our production of ecology and preserving the environment."
You are playing Badger, but is Badger your favourite character? If not, who is?!!
"Ooo, tricky! I do love Badger and their fieriness! But I think I'm coming round most to Rat. Bit of a curveball but they seem like an animal who's just trying to be kind and do the right thing, even though they sometimes get it wrong, and I can empathise with that."
Finally, Lucy, how did the performances at At The Mill come about?
"I'm actually from North Yorkshire originally, just across the way from Stillington in Ampleforth. When we first started booking The Wind In The Willows on tour I was absolutely determined to book a show near to the home I grew up in.
"My journey into theatre very much started with going to see outdoor performances that were touring to the local area, and I was really keen to try and offer that to the children and families who are living there now.
"I'd heard of Stillington Mill through family friends who said they had seen a few things there that were great and they felt it was a fab new venue, so I dropped the organisers, Alex [Flanagan Wright] and Megan [Drury], a line and they booked us in."
Theatre At The Mill's Silly Fringe presents Paperback Theatre in The Wind In The Willows at Stillington Mill, Stillington, near York, on July 30, 2.30pm and 7pm. Box office: atthemill.org/summer-at-the-mill/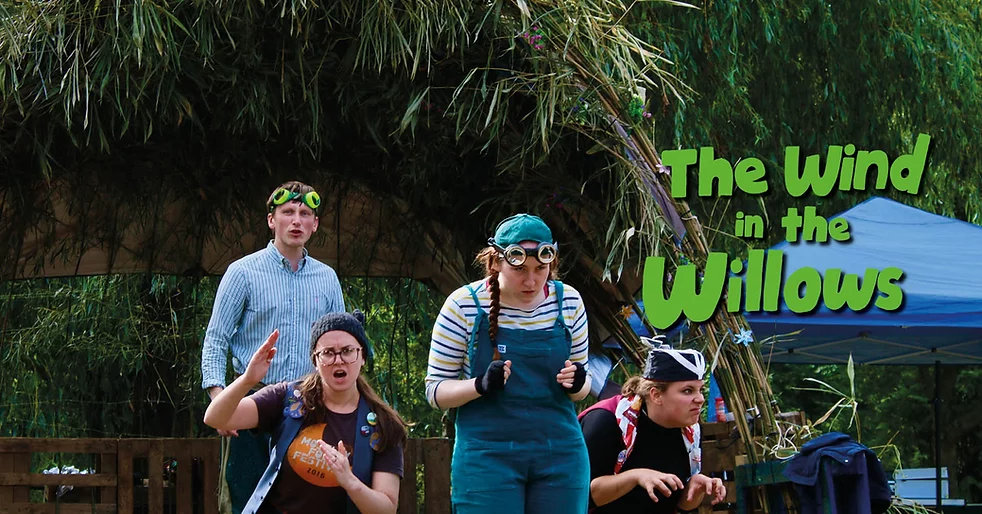 Paperback Theatre's back story
* Formed at University of Warwick by Lucy Bird and George Attwell Gerhards, on the cusp of graduation in 2016. Now based in Balsall Heath, Birmingham.
* Past work includes thought-provoking original plays We Need to Talk About Bobby (Off EastEnders) and Me And My Doll, plus innovative adaptations of classics.
* In 2020, in response to Covid-19, they set up open-air arts festival called Little But LIVE! in Moseley Park, Birmingham, to give performing platform to Midlands artists who had lost work and to bring community together in period of isolation. Event now produced annually, entering third year in 2022.
* Debut tour of The Wind In The Willows is taking in Birmingham, Northampton, Lichfield, Stafford and Suffolk before Stillington finale.
Did you know?
LUCY Bird hails from the prodigiously artistic Bird family from Ampleforth. Brother Henry is an actor and musician; brother Conrad fronts the Newcastle band Holy Moly & The Crackers.