AS the new Ice Age dawns in the city centre, Charles Hutchinson has advice on winter warmers to discover.
Free event of the week: York Ice Trail, York city centre, today and tomorrow, from 10am
YORK Ice Trail's theme for 2023 invites city-centre visitors to time-travel to prehistoric ages, walk through history and step into the future for A Journey Through Time.
Organised by Make It York, the free trail features ice sculptures sponsored and conceived by York businesses and designed and made by ice specialists Icebox for a second year. Look out for the National Railway Museum's interactive sculpture in High Petergate celebrating Flying Scotsman's centenary, one of 36 sculptures standing to attention in York's streets this weekend. Icebox will be doing live ice carving at St Sampson's Square.
Free trail maps will be available from the Visitor Information Centre on Parliament Street or can be downloaded online at visityork.org/ice.
Hot date of the week: Fool(ish) in Fooling Around, Theatre@41, Monkgate, York, Tuesday, 7.30pm
JOIN Fool(ish) for Fooling Around, an improvised romantic comedy cum early Valentine's evening of love, laughter and hand-crafted chaos. Taking audience stories and suggestions, the Chicago-trained York improvisers create a spontaneous series of inspired love-scenes.
From first dates to happy never afters, Fooling Around aims to sweep you off your feet in its off-the-cuff Yorkshire twist on American long-form comedy on the theme of dreams, desires and total disasters. Box office: tickets.41monkgate.co.uk.
Musical of the week: Joseph Rowntree Theatre Company in Hello, Dolly!, Joseph Rowntree Theatre, York, February 8 to 11, 7.30pm and 2.30pm Saturday matinee
KATHRYN Lay makes her JRTC directorial debut alongside musical director husband Martin Lay as the Joseph Rowntree Theatre's in-house fundraising company kicks off the Haxby Road theatre's spring season with glitz, glamour and a troupe of tap-dancing waiters in the Broadway classic Hello, Dolly!
Featuring Put On Your Sunday Clothes, It Only Takes A Moment and the title number, Jerry Herman and Michael Stewart's musical is the JRTC's most ambitious production to date. NHS psychiatrist Helen Spencer plays Dolly Levi, the strong-willed widow and self-proclaimed match-making meddler, who strives to woo tight-fisted millionaire Horace Vandergelder while spreading joy and confusion among everyone she encounters in 1885 New York. Box office:01904 501935 or josephrowntreetheatre.co.uk.
Poet of the week: Say Owt presents Harry Baker: Unashamed, The Crescent, York, Wednesday, doors, 7.30pm
WORLD poetry slam champion, poet and maths graduate Harry Baker likes to write about the "important stuff". Hope, dinosaurs, German falafel-spoons and such like.
His work has been shared on TED.com and viewed millions of times worldwide, as well as being translated into 21 languages. Post pandemic lockdowns, he is delighted to be back on stage with his "most heartfelt, playful, unashamedly Harry Bakery" show to date. Box office: thecrescentyork.com.
One for the future: Mediale presents: Richard Dawson, Selby Town Hall, February 11, doors, 8pm; on stage, 8.30pm; no support act
AUDACIOUS Northumbrian psych-folk and exploratory rock singer-songwriter Richard Dawson is welcomed to Selby Town Hall for the opening night of Selby Creates' winter arts programme.
Dawson will be showcasing his latest album, last November's The Ruby Cord, a grim, sinister vision of times ahead that journeys into an immersive, solipsistic metaverse 500 years from now to complete a trilogy focused on the medieval past (on Peasant), the present (on 2020) and the sci-fi future. Box office: selbytownhall.co.uk.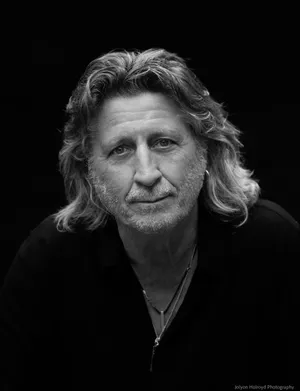 Solo venture of the week: Steve Knightley, Pocklington Arts Centre, February 11, 8pm
ONE half of folk/roots duo Show Of Hands since 1992, Steve Knightley will be performing material that surfaced over two years of isolation and inactivity in his new one-man show.
Insights, anecdotes and a bunch of new songs will attempt to chronicle and draw a line under an "extra episode in all our lives", alongside Knightley's headline-refreshed renditions of Bristol Slaver and You'll Get By and covers of Forever Young and The Boys Of Summer. Box office: 01759 301547 or pocklingtonartscentre.co.uk.
Late replacement of the week: Late Music presents Music On The Edge: The Lapins, today, 1pm; Resol String Quartet, tonight, 7.30pm, both at Unitarian Chapel, St Saviourgate, York
AFTER the Fitzwilliam String Quartet unavoidably had to pull out of Late Music's February evening concert, Fitzwilliam viola player Alan George has found a replacement quartet at very short notice. Step forward the Resol String Quartet, formed at the Royal Conservatoire of Scotland in 2018.
"They came up to St Andrews for a masterclass with us – plus a concert in the town a few weeks later – and everyone was very impressed," says Alan. "We've already recommended them for our university series."
Resol String Quartet's alternative programme of string quartet music for tonight features works by Haydn, Julian Broughton and Beethoven and Alasdair Morton-Teng's arrangements of traditional tunes.
Late Music's February brace of concerts opens with The Lapins ­– Susie Hodder-Williams, flute, Chris Caldwell, saxophone, and James Boyd, guitar – performing Music On The Edge at lunchtime.
World premieres of David Lancaster's Au Lapin Agile, Gwilym Simcock's Suite for Solo Flute and new works by David Power and Hayley Jenkins will be complemented by the British premiere of Athena Corcoran-Tadd's Confluence (Hope Is A Boat) and Bach and Tippett pieces. Box office: latemusic.org or on the door.
Relaxing afternoon: Lillian Hetherington, Mille Mazzone and Michael Capecci, Dementia Friendly Tea Concert, St Chad's Church, Campleshon Road, York, February 16, 2.30pm
UNIVERSITY of York music students Lillian Hetherington, Mille Mazzone and Michael Capecci play violin and piano works by Wieniawski, Schostakovich and Dvorak.
As usual, 45 minutes of music will be followed by tea and homemade cakes in the church hall in a relaxed afternoon gathering ideal for those who may not feel comfortable at a formal classical concert. No charge but donations are welcome for hire costs and Alzheimer's charities.
Longer time in York: Burning Duck Comedy Club presents Josie Long: Re-Enchantment extra matinee, The Crescent, York, February 18, 3pm
AFTER her 7.30pm gig sold out – as had her last appearance at The Crescent in Lefty Scum – comedian Josie Long has added a matinee performance of Re-Enchantment. Inspired by London feminist writer Lola Olufemi's sentiment that "after defeat, re-enchantment is necessary", Josie's new stand-up set is infused with humanity, compassion and some brief political rants.
The triple Edinburgh Comedy Award nominee, underdog Fringe hero and delirious new mother returns with a show about the changes wrought by time, passion, moving to Scotland and loving the world under – let's face it – difficult circumstances.
"Josie is one of our all-time favourite comedians, so we're very excited to bring her new show to York and add an extra matinee show as well," says Burning Duck promoter Al Greaves. Box office: thecrescentyork.com.
In Focus: York Ice Trail's 36 sculptures this weekend
A Journey Through Time, Parliament Street – Make It York
Growing The Future, Parliament Street – Dalby Forest
Cash-asaurus T-Rex, Parliament Street – YorkMix Radio
York to London Skyline, Parliament Street – Grand Central
Atey Ate Miles Per Hour, High Ousegate – Ate O'Clock
121 years of making magic, Spurriergate – Grand Opera House, York
Every Moment Matters, North Street – Park Inn by Radisson
Where ever I lay my hat…. , Station Rise – The Grand, York
100 years of LNER, Station Road – LNER
York Quest App: The Roman, Micklegate – York BID
The Enchanted Unicorn, Middletons – The Hole In Wand
Ginny the Dragon, Middletons – York Gin
20,000 Leagues Under the Ouse, Middletons – City Cruises
The Monstrous Chimera, Middletons – Middletons
York Quest App: The Butcher, Kings Staith – York BID
Coppergate Viking, Coppergate Centre – Coppergate Centre
E.T. Comes Home, Piccadilly – Spark: York
York Quest App: Dick Turpin, Walmgate – York BID
Adventure Is Out There, The Stonebow – Hiscox
York's Chocolate Story Clock, Kings Square – York's Chocolate Story
Erupted Volcano, Grape Lane – Lucia Bar
The York Rose Diamond by Kay Bradley, Low Petergate – Bradley's Jewellers
Minus 200 Degrees Coffee, Low Petergate – 200 Degrees Coffee
York Quest App: Anne Lister, Goodramgate – York BID
Gothic Grotesque, Minster Piazza – York Minster
Celebrating 100 years of Flying Scotsman, High Petergate – National Railway Museum
York Quest App: Guy Fawkes, Gillygate – York BID
The Pearly Cow, Clifton – No .1 Guesthouse
Layers of Time, Exhibition Square, St Leonard's Place – North York Moors National Park
York Quest App: Wally Herbert, Museum Street – York BID
Ryedale Roman Hoard, Museum Gardens – Yorkshire Museums Trust
Greek Minotaur, Lendal – The Judge's Lodging
Busloads To Love!, St Helen's Square – York Park & Ride
The Bettys Express Train, Davygate – Bettys
Fire Breathing Dinosaur, St Sampson's Square – Cut and Craft
Live Carving by Icebox, St Sampson's Square – York Ice Trail
Fact File
THE last York Ice Trail took place in March 2022 after a pandemic-enforced one-year hiatus. More than 40 ice sculptures lined the city streets, with 25,000 people participating in the trail.
Post-pandemic, York Ice Trail appealed to more residents than pre-pandemic in 2020, increasing from 23 per cent to 39 per cent.
Highlights
THE grounds of Middletons Hotel will be transformed into a mystical world of mythology, including four ice sculptures and photo opportunities throughout the day. York Gin, City Cruises and The Potions Cauldron will be on site, with crafts, competitions and surprise creatures.
Sister proper The Judges Lodgings features an ice sculpture too. Check out the Thwaites Shire Horses in all their finery.
On the anniversary front, the National Railway Museum celebrates Flying Scotsman's centenary with an interactive sculpture. The Grand Opera House marks 121 years of making musical magic and LNER highlights its 100-year milestone.
York's chocolate heritage will be rendered in ice with York's Chocolate Story's working Terry's Clock Tower with a hot chocolate twist.
Learn more about York's history with York BID's six sculptures, all inspired by York historical figures that can be found on the York Quest app.
Busloads To Love, by main sponsor York Park & Ride, offers the chance to be the driver and take a selfie. The sculpture, celebrating the importance of the bus in public transport, will be situated on St Helen's Square.
Travel from York to London with Grand Central's Skyline sculpture, or be transported into another space and dimension with Hiscox's adventure-bound sit-on space shuttle. For those wanting to go back to the future, discover Ate O'Clock's DeLorean-inspired Atey Ate Miles Per Hour sculpture.
Live ice carving across the weekend at St Sampson's Square will show how Icebox's sculptors bring the ice trail to life.
Quotes
Sarah Loftus, Make It York managing director, says: "York Ice Trail 2023 will spark imaginations, transporting visitors across time and dimension from sculpture to sculpture. Our ice partners at Icebox have done a phenomenal job at bringing the ideas to life and we can't wait to see all 36 sculptures line the streets of York."
Councillor Keith Aspden, City of York Council leader, says: "The York Ice Trail brings imaginative, 'cool' and unique sculptures to York's streets and is much loved by residents and visitors, so it's excellent to see the event return once again. This year's theme and creations are paying a fitting tribute to York's rich history and imagination of our local businesses."
Greg Pittard, Icebox managing director, says: "It is our privilege to be returning as the sculptors for the second year for York Ice Trail 2023. From mammoths to DeLoreans, the carvers have been working non-stop since late-August to deliver A Journey Through Time. This year's theme has inspired some incredible designs and we can't wait to unveil all of this year's ice creations."
John Godfrey, of First Bus in York, says: "We would encourage everyone planning to come and enjoy the Ice Trail to think about sustainable travel to get here and consider leaving the car at home or using the Park and Ride network. This helps avoid congestion, which makes travel around York easier, especially with such an event creating a bustling and lively atmosphere."
For more information, visit https://www.visityork.org/york-ice-trail #YorkIceTrail